As summer creeps around the corner, now is the time to invest in an appliance to take care of your lawn, and this Greenworks 21-Inch 13 Amp Corded Lawn Mower 25112, on sale for $203.99 at Walmart, is the perfect way to get ahead. The recommended retail price for this reliable mower is $249.99, so you'll be saving over $45 with this deal.
With the best electric lawn mowers prone to selling out as garden season approaches, this is sweet little discount you'll want to make the most of. The Greenworks 21-Inch 13 Amp Corded Lawn Mower 25112 is the perfect tool for anyone who wants the power of the best gas lawn mowers but prefers something more convenient to use and easy to maneuver. With three-in-one mowing capabilities including mulching, rear collection and side discharge, it would make a versatile addition to any backyard.
Its corded power supply means you'll never have the bother of running out of charge mid-mow either. And the extensive four-year warranty is another reason it's worth considering, as it easily beats the cover of more expensive models.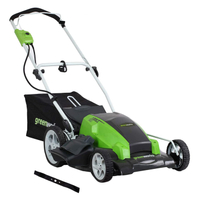 Greenworks 21-Inch 13 Amp Corded Lawn Mower 25112: RRP $249.99| Now $203.99 at Walmart
This easy to maneuver Greenworks corded lawn mower has a 21 inch wide cutting path, perfect for mid-size outdoor spaces. What's more, it also has mulching power for long grass or weeds, so you can really take control of your backyard.
If you're looking to prune your lawn to perfection this spring, you'll be glad to know this mower also has five cutting heights to choose from, so cutting your lawn to the best height to ensure its health has never been more achievable. If you want to be the envy of your neighbors, you could even put it to work in creating aesthetically pleasing lawn stripes too!
There's no doubt that we're fast approaching lawn mower season, so be sure to capitalize on deals early before everyone else gets their hands on a new garden appliance. Other major retailers are running spring-ready sales on garden appliances too, and we're rounding up all the excellent savings in our guide to the latest cheap lawn mower deals.
More great lawn mower deals