The Sole Fitness F63 running machine is designed to help you step right up when it comes to exercising at home, whether you want to get fit by running, walking, or both. And at Dick's Sporting Goods right now you can save $800 off the normal price of the F63, getting it for $999 instead of $1,799, but right now you can save a whopping $800 and pick up the machine for just $999. Sole Fitness makes some of the world's best treadmills, so this is a deal worth considering.
There's plenty to love about the Sole Fitness Sole F63, which features Bluetooth speakers, integrated workout systems and 15 incline levels, plus speeds of up to 12mph to challenge you when you're ready. The machine is also built to last a long time and to accommodate heavier users too (up to 350lbs), thanks to a heavy-duty steel construction and a Cushion Flex Whisper Deck that reduces impact to the joints by up to 40%. The 20x60-inch running surface is ideal for stretching your legs during sprints too.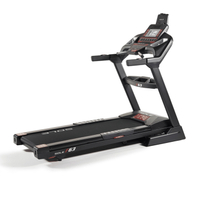 Sole F63 Treadmill | Was $1,799 | Now $999 at Dick's Sporting Goods
TheSole F63 offers plenty of options for running and walking in one great-quality machine that's built to last. Take advantage of the 15 incline levels and 12mph top speed, all from the comfort of home.
When it comes to great ways to get fit, Sole Fitness knows a thing or two with its industry-leading exercise machines trusted. And the Sole F63 doesn't disappoint. The F63 features a robust motor that will help you improve your fitness in no time – start off slow then gradually build up to take advantage of the 15 incline settings and maximum speed of 12mph.
If you're after a little more direction when you run, then the F63 also has six preset programs, which include cardio training and fat-burning programs. Or you can create your own fun and set up your tablet in the holder and watch movies as you exercise. Plus you can listen to music, with built-in speakers helping you get into the rhythm as you run.
To keep things safe, the F63 features an easy-to-reach stop switch, and the machine starts from just 1mph to avoid any mishaps. Meanwhile the speed and incline controls are on the arm-rests so everything is at your fingertips.
If you're looking for other great ways to get your exercise fix, then you will also love our guide to the best home gyms. Or, to keep track of your exercise habits indoors and out, then why not look at one of our best fitness trackers for plenty of motivation and insight into how much your fitness is improving.
Looking for more fitness content? We'd also recommend our guides to the best elliptical machines, as well as the best online fitness programs to exercise without equipment.