Schwinn Fitness is the home cardio machine arm of the famous bike company, and right now at Best Buy you can save $100 on the Schwinn 430 Elliptical, bagging it for the discounted price of $699 (was $799). Considering how Schwinn makes some of the world's best elliptical machines, and how many features are stuffed into the 430's sleek frame, this is a bargain. The Schwinn 430 Elliptical has an average rating of 4.6 out of 5 stars on Best Buy, with 4.2 out of 5 stars on Amazon, so a lot of people like this cross-trainer.
It isn't hard to see why, either: there are 20 levels of resistance to boost the intensity of your workouts, plus 22 preset exercise programs catering to beginners and the more advanced. Yes it lacks the smart features found on super-modern (and more expensive) home cardio machines, but there's still plenty here for $699, including heart rate and calorie tracking - handy if you don't own one of the best fitness trackers.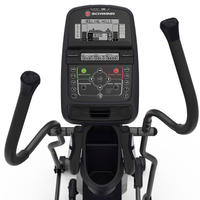 Schwinn 430 Elliptical | Was $799 | Now $699 at Best Buy
Enjoy a cardio and strength workout rolled into one with Schwinn's popular cross-trainer. It's designed with comfort and ease of use in mind, and offers variable resistance and incline options to help you get fitter and stronger over the long term.
The Schwinn 430 Elliptical is all about helping you progress at your own pace. How come? By serving up six different incline options from the beginner-friendly to total thigh-busters. That, plus 20 computer controlled resistance levels tailored to your current fitness level, and a decent range of built-in exercises to follow along with. These are handy if you haven't signed up to any specific online fitness programs that support elliptical workouts, yet you prefer an instructor-led class.
If you're anything like us, cross-trainer workouts quickly transform you into a sweaty mess, but the Schwinn 430 has a secret weapon to keep you cool: an integrated three-speed fan. As for other comfort features, both footplates are cushioned to absorb more impact, and the moving handlebars are ergonomically designed for better grip and hand placement.
You won't find a fancy display on the Schwinn 430 Elliptical, but you will find essential workout metrics displayed on the DualTrack 2 LCD screen system. You'll see your active minutes, distance covered, and your heart rate displayed - heart rate contact grips are fitted into each handlebar. You can't watch videos on those LCD screens, but there is a media shelf to support your tablet if you want to exercise while watching a show or movie.
Ultimately, if you have already invested in one of the best home gyms for weight training, a quality cross-trainer like this Schwinn is definitely worth considering to add in a more intense cardio element.
Looking for more fitness content? We'd recommend our guide to the best bike trainers for transforming your MTB or road bike into an indoor cardio machine. To boost recovery post-workout, try one of the best handheld massagers.