The Sun Joe Pressure Washer is one of the best pressure washers around, offering good value for money considering the cleaning power you'll get from it, and it's relatively quiet too compared to other gas pressure washers. Among all the best Amazon Prime Day 2020 you can shop right now, this one is worth looking at as you can buy the Sun Joe Pressure Washer for just $103.99 at Amazon. That's a huge 54% saving, but it won't be around forever.
Rated highly by users, this bestselling pressure washer also scored highly in our reviews as it's such great value for money when it's full-priced, let alone when you can save 54%. With the Sun Joe SPX3000 2030 you can expect power and performance that's great at tackling dirty cars, yard slabs, and your driveway. This pressure washer is electric powered and comes complete with a series of useful tools including a high-pressure hose, spray tips, and a clean-out tool.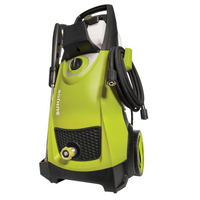 Sun Joe SPX3000 2030: Was $199.99| Now $103.99 at Amazon
Don't miss out on this discount on the bestselling Sun Joe pressure washer, on sale now as part of Prime Day. Electric-powered, this unit will give you more than enough gusto to tackle outdoor cleaning jobs and all without making too much noise.
If your driveway is in need of a decent clean ahead of the winter, you can't go far wrong with the Sun Joe SPX3000. It can reach a pressure of 2,030 PSI and benefits from a flow rate of 1.76, which is enough power to rival even the most premium of pressure washer brands.
What's also great about the Sun Joe Pressure Washer is that it's geared towards a variety of cleaning jobs. It's fitted with two detergent tanks, both of which can be easily taken out so that you can top them up or swill them out whenever you need to.
The idea behind two detergent tanks is that you can have two different cleaning products to help you take on different tasks - meaning your car can have a shampoo, while your driveway is disinfected.
Rarely available with such a huge discount, this Sun Joe Pressure Washer is bound to get snapped up in no time, so if you're tempted, you better act fast.
Want to save on Amazon devices?
While there are some pretty brilliant pressure washer Prime Day deals, Amazon is also cutting prices on its very own tech devices. Here is a selection of the best deals right now…