Established in 2001, The Credit People has since helped over 100,000 people improve their credit ratings on its way to becoming one of the best credit repair services. Aiming to help both improve credit reports and raise credit scores, The Credit People offers an all-round credit repair service and claims to have removed almost one and a half million credit issues for its customers.
The Credit People are transparent over the service you can expect to receive, with assistance delivered by a number of specialist teams. The 'Credit Repair Team' is described as the "front line", offering certified credit repair help and benefiting from the experience that processing in excess of 310,000 unique credit reports brings. The 'Score Analysis Team', meanwhile, looks at the factors that affect a credit report, aiming to provide insight that can help improve your credit rating going forward.
The end result should be a polished credit report that improves the chances of securing the lending that you require. With 81% of those using The Credit People service going on to be approved for new credit and 78% being approved for the best auto loans, it seems to be a service that will usually deliver on its promise.
---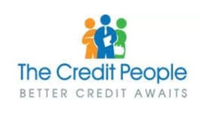 The Credit People review: How it works
Start online or by phone
Improvement within 60 days
The Credit People provides a step-by-step guide as to what new customers can expect when signing up to its credit repair service. The initial contact you make either online or by phone will result in swift access to an online account before you can expect to receive a welcome call and review of your credit situation the next business day.
By accessing the credit reports and credit scores that the TransUnion, Equifax and Experian credit bureaus hold for you, The Credit People will analyze your credit situation, identify issues that need addressing, and start to challenge those issues with the bureaus on your behalf. Improvements in your credit should begin to be seen within 60 days, although the best results are expected to take 4-6 months to achieve.
While a team of three people will usually be assigned to work on your case, you can ask to work with just one dedicated person if you prefer.
The Credit People review: How much does it cost?
$19 setup fee
$79 per month or $419 for six months
Key figures
Cost: $79 per month or $419 for six months, $19 setup fee
Customer service: 24/7
Contact: Phone and email
Credit report: Free ($19 setup fee)
Following the initial free consultation on the phone - a common service among the best credit repair companies these days - The Credit People have a transparent pricing plan with charges that stack up favorably compared with its immediate competitors.
For an initial fee of $19, you'll get a welcome call and access to your credit reports and credit scores. If you like the service, there is then a pay as you go plan that comes in at $79 per month, or a six month flat rate option that requires a one-off payment of $419 - a saving of $55 over the monthly rate. Since the average credit report can take six to seven months to completely clear up, the latter option probably makes sense for those who feel their credit history could take some time to sort. A discount for couples is available too, and if you sign up your spouse within three days of making your order, you'll receive $20 off each of your first payments.
In terms of ending the service, if you're paying month by month, you can cancel at any time and won't be charged for that month. If you choose the flat-fee pricing option, you have a full six-month satisfaction guarantee.
The Credit People review: Guarantees
Can cancel at any time
Previous month's fees returned
While offering an "unbeatable satisfaction guarantee", there are better assurances available from credit repair services elsewhere. The Credit People say that if you aren't satisfied for any reason - and at any time - you can cancel your plan, which is fair enough.
However, the promise is that you won't get charged for that month and you'll be refunded your last month's payment as well - so in effect, the most you can expect to receive back is 60 days' worth of fees. By comparison, Credit Saint offers a 90 day guarantee and a full refund if you see no deletions in the first three months.
The Credit People review: What is included?
Once up and running, the services that you can expect from The Credit People within the fee that you pay include:
Free consultation
Dedicated account manager
Unlimited disputes
Online account management
Identity theft protection
The promise of unlimited disputes is worth noting, as it means The Credit People can liaise with the credit bureaus and creditors without restriction. It also means you don't need to worry about incurring extra fees and will suit those who have many issues that need to be addressed.
The Credit People review: What is fixed?
The Credit People work to fix lots of issues that should result in a higher credit score. Among the items that are typically found and addressed are:
Late payments
Collections
Charge-offs
Bankruptcies
Repossessions
Foreclosures
Tax liens
Identity fraud
Student loans
Judgements
The Credit People review: Service
See updates as they happen
Be alerted by email
The Credit People want you to see that progress is being made, and deliver email alerts if there are any credit changes that result from the work being done. You can then go online to see what has happened in more detail.
Access online is, of course, 24/7 meaning you can find out details whenever you want, not just as they happen. This includes details like the client requests made and the past actions taken, so everything is there in a snapshot. A pie graph is used to clearly display your credit repairs across the three credit bureaus, with repairs in green and work left to be done in grey.
One thing that is missing, however, is the wide range of online educational materials that tend to be found on most other credit repair service websites.
The Credit People review: What users say
More credit repair services reviews
On ConsumerAffairs, The Credit People is awarded a very decent 4.2 out of 5 stars, obviously suggesting a service that is well liked by users. However, as this is based on just 11reviews, it is far from the most comprehensive endorsement that we have seen, although most profess to be happy with the service they received and the credit improvements recorded.
Only one review is available on the Better Business Bureua (BBB), and this itself is less than favorable. The BBB itself awards The Credit People a rating of C+.
Should you choose The Credit People?
The Credit People offers an attractively priced service and payment options that should cater adequately to all who are looking to repair their credit. The email alerts and online account will keep you abreast of progress, while there is a 24/7 customer care line too.
Everything else seems well organized to deliver on the promises made, although it must be said that The Credit People guarantees are probably not as good as those made by credit repair services elsewhere. The shortage of past customer reviews to provide first-hand insight into the service that you can expect might also deter some.
---