Launched in 2004, Credit Saint has firmly established itself among the best credit repair services in the time since. Specializing in particular on improving credit scores by challenging the damaging aspects of your credit history that you dispute, Credit Saint reports that 95% of customers see a positive change in their credit report within 45 days of signing up. Instances of bankruptcy, late payments, collections and more can all be investigated, with creditors pressed to explain why such marks have been included on your report.
Operating in 41 states plus Washington DC, and offering three distinct price packages, Credit Saint can provide a credit repair solution to most. What is more, the initial consultation is free, the rolling monthly payment can be canceled at any time, and there is a 90-day money back guarantee, promising a full refund if you don't see progress in cleaning up your credit history in the first three months.
---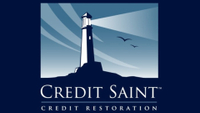 Credit Saint review: How much does it cost?
Polish: $79.99 per month
Remodel: $99.99 per month
Clean Slate: $119.99 per month
Key figures
Cost: Polish: $79.99 per month, $99 first work fee; Remodel: $99.99 p/m, $99 first work fee; Clean slate: $119.99 p/m, $195 first work fee.
Customer service: 24/7
Contact: Phone, email, online chat
Credit report: Free
Credit Saint offers a three tiered payment structure which allows you to get what you need specifically. So for those with few credit issues, that just want a tidy up, there is the Polish tier at $79.99 per month after an initial fee of $99. This offers what the company calls a "Medium" level of aggressiveness.
Next up is the Remodel tier at $99 per month after a "First Work Fee" of $99 which it classes as "High" aggression and features an escalated information request.
The top tier is called Clean Slate which does what the name suggests, but you pay for it at a monthly fee of $119.99 after a First Work Fee of $195. This adds lots of features like covering judgements and bankruptcies too. There's also "Dispute Avalanche" which is, as you'd imagine from that name, pushy.
Credit Saint review: 90 day guarantee
Full refund
Deletions guaranteed
So confident in its own work is Credit Saint that it operates a 90 day guarantee. This is quite a rare thing in the world of credit repair. This is because it often takes months to see any changes made to a credit report and it's tough for companies to offer guarantees.
Credit Saint is so sure of itself that if you don't see any deletions within the first 90 days then you get all your money back with a "full refund". While competitors do offer guarantees, none are as comprehensive or as specific as this.
Credit Saint review: Online updates
Credit Saint works in 45 day cycles and uses an online account which allows you access to your progress 24/7. Of course, since these changes work in cycles you can likely check back at certain times to see results.
Not that you'll need to as you'll also be alerted to credit changes via email. But there are online educational resources available also, allowing you to stay informed and involved in the process. The aim here is to help you take action to better improve your credit score directly and in the future.
Credit Saint review: How it works
Three step process
Three credit reports every cycle
Credit Saint uses a simple three stage process to fix your credit. Initially, before committing at all, you can enjoy a free credit consultation over the phone.
The first step includes a complete analysis of credit history, credit reports and credit score. You even get a plan on how to improve your credit score based on challenging the damage you disagree with.
Step two is when the credit bureaus investigate challenges received. This is when you will be able to work on your plan for building credit to boost your score.
The third stage is when the credit bureaus release new credit reports to show changes. This is when your online account will get updated so you can see the effects. Then new challenges are released and the process repeats until you're clean.
Credit Saint review: What is included
The Credit Saint offerings do vary from pricing plan to pricing plan, but the basic minimal package includes the following, with extras shown in brackets:
Access to Credit Saint online
90 day money-back warranty
Debt validation
Toll free phone support
Escalated information request (Remodel and Clean Slate plans only)
Dispute avalanche (Clean Slate only)
The following items are challenged:
Late payment
Identity theft
Charge-offs
Collections
Bankruptcies (Remodel and Clean Slate only)
Repossessions (Remodel and Clean Slate only)
Judgements (Clean Slate only)
Credit Saint review: What users say
More credit repair services reviews
ConsumerAffairs rating of 4.7 stars
BBB customer rating of A+
The Better Business Bureau has awarded Credit Saint an A rating and has been accredited since 2007. There are only 20 customer reviews on the site, delivering an average score of 2.7 out of 5 stars, with the most positive testimonials praising the knowledge of staff and the money back guarantee, and the worst citing limited results.
By contrast, its ConsumerAffairs rating is an impressive 4.5 stars out of 5, with the vast majority of past customers awarding the full five out of stars, and waxing lyrical about the improvement they've seen in their credit rating.
Should you choose Credit Saint?
Credit Saint is a very impressive credit repair service that offers a tiered payment system to make sure there's a suitable level of service for varying types of customer. The 90 day money-back guarantee is a bold offering that shows the confidence of a company that has a strong 95% success rate track record and a stunning A+ rating from BBB.
While tough to fault, this is a more pricey offering if you go for the Clean Slate option and that initial fee is steep. But with the level of service you get, including help at the end of the phone when you need it, this is easy to see why the prices are high.
---