Launched in 2011, Pyramid Credit Repair has wasted little time establishing itself as one of the best credit repair services available in the US. Indeed, since starting out as a self-help software based credit repair company, Pyramid has quickly grown to become one of the most reputable credit repair services that there is.
While technology remains at the heart of its credit repair proposition, Pyramid has evolved over the years into a full service credit repair company, with fraud a particular area of expertise.
On the downside, Pyramid does not operate in all states, meaning those who reside in Wisconsin, South Carolina, Oregon, Ohio, Mississippi, Michigan, Maryland, Maine, Kansas, Iowa, Indiana or Idaho will need to look elsewhere if their credit report is in need of repair.
---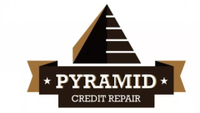 Pyramid Credit Repair review: How it works
Three step approach
All credit bureaus covered
To get started, you must undertake a free case evaluation with a credit repair expert, a process that involves a few short questions and can be conducted over the phone or initiated online. Should you choose to use the service following this, you then schedule a virtual meeting with your dedicated account manager.
In this one-on-one session, a dedicated analysis of your credit report will be conducted, and a plan established to help repair your credit. Pyramid will also agree what it calls a Golden Number, which is the credit score that it will aim to achieve.
Professional and customized dispute letters are then sent to the three credit bureaus - Experian, Equifax and TransUnion - to begin the process of getting any negative items from your credit report removed. Whenever progress is made, you can expect to be updated by Pyramid, with changes normally starting to happen between 45 and 60 days from the initial dispute filing.
Pyramid Credit Repair review: How much does it cost?
No setup fees
Transparent structure
Key figures
Cost: $99 per month singles, $198 per month for couples
Customer service: 24/7
Contact: Phone, email, text
Credit report: Free
Pyramid Credit Repair prides itself on transparency when it comes to pricing. There are two straightforward options and no starting fees, with a single plan costing $99 per month, or the couples plan coming in at $198 per month. Veterans and those on active duty are entitled to a 20% discount each month, while teachers get a 15% discount.
The lack of start-up fees is rare among credit repair services, but with the monthly costs coming in at the higher-end of the market, there is certainly an element of balancing out, particularly if you're paying for several months.
Generally, credit repair companies suggest at least four months is needed to see a significant change in your credit, with the overall process taking, on average, six months. Pyramid hopes to see changes in as little as 45 days although this will, of course, depend on your unique credit situation.
Pyramid Credit Repair review: Service
At Pyramid Credit Repair, you'll be assigned a personal account manager meaning that you have one point of contact for any questions you might have, and know precisely who will be directly dealing with your credit issues.
As such, you won't have to keep going over old ground every time you make contact. Your personal case manager should be available over the phone for a live chat, or via email or text message.
Pyramid Credit Repair review: Money-back guarantee
100% money-back with 90 days
No questions asked
If, for any reason, you're not happy with the service that Pyramid Credit Repair has provided, then you have 90 days in which to claim your money back. You don't need to explain why you're leaving or fill out forms - you simply leave and get 100% of your fees repaid to you, no questions asked.
While other services offer guarantees, none are as open and easy to use as this, and with Pyramid promising that some changes should be seen within 45 to 60 days of the dispute being filed, you should have ample time to assess the situation.
Pyramid Credit Repair review: What else is included?
Pyramid Credit Repair offers great support for instances of fraud. So not only will Pyramid help to remove potentially damaging entries from your credit report, it also offers the expertise to identify potentially fraudulent ones too. If the company finds any evidence of suspicious activity or an erroneous claim, you'll be informed right away.
Pyramid Credit Repair review: Online support
As you would expect from a company so focused on technology, Pyramid offers excellent support online. Primarily, you get a login to an online portal where you can access all your case information 24/7. But there's more in the form of education.
The Pyramid website is full of useful blog posts and FAQs with plenty of information on credit repair. As such, you should have all the tools to follow what's going on with your credit report clearly, while learning how to further improve your credit score. It should also mean you won't need to worry about credit repairs in the future, as you'll know how to avoid the issues in the long run.
Pyramid Credit Repair review: What users say
More credit repair services reviews
The Trustpilot score for Pyramid Credit Repair is an excellent 4.4 out of a possible 5 across 88 reviews. This is thanks to 92% of reviews being classed as excellent, 6% as great, and just 2% as bad. The informative and helpful nature of the service is regularly mentioned, as is the clarity provided in relation to the plans to recovery that are put in place. However, the company has no listing or accreditation with the Better Business Bureau.
Should you choose Pyramid Credit Repair?
Pyramid Credit Repair likes to keep things simple, with a clear pricing structure and no upfront fees, but still ends up as one of the higher priced credit repair services.
However, what you get for your money tends to be good, including the dedicated account manager who will be with you throughout the process. It might also prove money well spent if fraud is a particular problem on your credit report. The online educational resources and personal account portal are excellent too, while you'll be kept up to date of any progress that is made via email and text alerts.
The customer reviews are more than encouraging too, and with the no questions asked money-back guarantee, you always have a safeguard to fall back on should Pyramid fail to live up to expectations.
---