If you're hoping to snap up one of the best Amazon Prime Day Instant Pot deals (opens in new tab), we have some top tips to help you buy wisely and to ensure you get a great Pot for less. This is arguably the nation's most favorite multi-cooker, but as there are now so many different models in the range, choosing the right Instant Pot (opens in new tab) for you requires a little research before you hit the sales. That's where our handy top 10 tips come in.
The main thing is to go into the sale being very clear on which model you need - the one that's right for your budget and cooking needs - and to not be swayed by the oodles of discounts crowding your view. We say this because there will be countless multi-cookers on sale among the best Amazon Prime Day USA Deals (opens in new tab), so if you are on a strict budget, getting clear on which Instant Pot you're there to buy will help you stick to that budget.
If, on the other hand, you're happy to browse and go on the best price rather than be led by a specific model, then our top 10 tips for buying an Instant Pot on Prime Day will be even more essential, as they clarify the main things to consider before hitting checkout. So take some time to soak up the following tips, then reap the benefits with tasty meals for many years to come.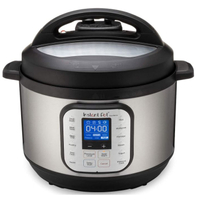 (opens in new tab)
Instant Pot Duo Plus: Was $139.99, now $119.95 at Amazon (opens in new tab)
Save over $20 on the Instant Pot Duo in the 8-quart size; this cooker has a seriously impressive nine functions and 15 customizable smart programs.
1. Get familiar with the Instant Pot range
If you want to buy one of these highly coveted multi-cookers but aren't sure which is the right model for you, the first step is to familiarize yourself with the different Instant Pots on offer. There are currently 13 models in the range, all of varying price and specification, though some, like the Instant Pot Lux, are older and often not directly sold by retailers anymore. For a full run-down, read our guide to the best Instant Pots (opens in new tab).
No matter the pot, the big draw with Instant Pots is their clever multi-functional capability; such as the ability to air fry, for example. Another strong feature is the preset programs each machine has, saving you cooking time, or the opportunity in some models to program presets yourself. These are a godsend for anyone who wants to pressure cook or broil but doesn't know which temperature to go for.
2. Be honest about your cooking capabilities
Decide how advanced you want your Pot to be. At the highest end of the spectrum, there are models like the Instant Pot Pro Crisp, an 11-in-1 pressure cooker with an Air Frying lid that can broil and dehydrate, just to name a few capabilities. It's an extensive and expensive model, which could help you unleash your creativity with innovative home-cooked meals.
However, it's worth considering whether diving in at the deep end with such an extensive model is wise if you're an Instant Pot newbie. More modest models, such as the Instant Pot Duo feature a less dizzying array of functions and have programs dedicated to popular foods, such as soup and porridge so that you can cook with the touch of a button.
3. Think about how much storage or counter space you have
Prime Day is an excellent opportunity to grab a cheap multicooker that you could use for family get-togethers, or to batch cook meals for yourself. Both scenarios require different sizes Pots. That's why it's important to nail down exactly what sort of size you'll be looking for, so you know you can whip up enough to feed hungry mouths.
Also, how much space do you have on your countertop or in your cupboard to store one of these multicookers? While the bigger models are tempting, do you really have the space or need for one? Being honest about this question could save you money as you could opt for a cheaper model.
Instant Pots are measured in quarts, with the quart size tending to reflect how many people the pot can cater to. So, if you opt for a three-quart size, expect to be able to create meals for two to three people, with the potential for leftovers if there's just a couple of you. If you envision that you'll be using this Pot for hosting guests or throwing parties, then max out on size, with eight and ten-quart pots available for mammoth meal preparation.
4. Decide which features you can't live without
Instant Pots are so excellent because of their variation, and the same can be said for the tastes of those buying them. Everyone will have different dishes in mind when it comes to their new multicooker, so narrow down exactly which features would work best for putting these together. Air Frying capabilities means you can feast on fries and chicken wings while using less oil, but this won't be much use if you're actually after a gadget to help you make the perfect bowl of rice.
It can be easy to be swept away by the excitement and prices of Prime Day, but when it comes to Instant Pots you want to be sure you're found your perfect pairing. If you're a smart home enthusiast, for example, the Instant Pot Smart Wifi will be ideal, as you can monitor the progress of your meals remotely, though it might be less suited to those who aren't technologically savvy.
5. Suss out which Instant Pot interface suits you
As Instant Pots have progressed and newer models take the spotlight, there have also been changes with the type of user interface available. The classic look prioritizes buttons for different presets over anything else, with a smaller screen showing the timer for your cooking. Newer models have more information to take in, including graphics on the pressure inside the pot, and have larger blue LCD interfaces so that you can see the timer better.
It'll be up to personal preference exactly which kind of interface suits you best, whether that's bigger buttons or control from your smartphone, so it's definitely worth researching as part of your process.
6. Consider which Instant Pot safety features are important in your home
To a newcomer, Instant Pot routines might seem technical, especially when it comes to releasing the steam that will have built up inside your pot safely. To avoid being overwhelmed by your new purchase, as well as sussing out functions, take a look at how each model is operated, and which safety features can reassure you along the way.
Newer Instant Pot models have advanced heat protection built into their lids, to prevent any accidents occurring from touching the hot surface, which will be extremely important to anyone with children. Other safety features to look out for include an auto-sealing lid, to prevent any food splats after the pressure has built up inside, as well as a gentle steam release to make the end of the cooking process much more manageable.
7. Use last years sale offers as a price comparison guide
Instant Pots have been big business for a while now and they appeared as one of the stars of last year's Prime Day, with customers scooping up some great bargains. One of our favorite models, the Instant Pot Ultra in the three-quart size, was discounted by over 50% to $49.99, which is a seriously good deal considering that it has an exceptional ten functions.
Other discounted models included the Instant Pot Duo Crisp, which is an extremely sought-after model due to its ability to Air Fry, meaning you can eradicate one other small appliance from your kitchen countertop immediately. It was reduced to just $119.99, giving you an idea of how extensive Prime Day discounts can be. Having a rough idea of last year's prices will help you get a feel for whether you're getting a good price now, but prices do vary a lot. Use CamelCamelCamel to view any Amazon product's price history.
8. Shop for deals on other sites too
Though Amazon has a stronghold over the name of the shopping event, they won't be the only major retailer offering competitive prices on multicookers on June 20 and into June 21. Instead, there'll probably be a roundup of offers to check out from Bed, Bath and Beyond, Target, Walmart, and more.
If you have a particular model in mind then keep your eyes peeled and shop around, making sure to measure up whatever deal you're getting against the MSRP to avoid being ripped off. Luckily, our price shopping software will do all the research for you by displaying today's cheapest prices across hundreds of online retailers.
9. Have your Prime account ready
If you want to be able to access any Prime Day Instant Pot deals on Amazon straight away, then you need to be a member of the Prime service. You still have time to sign up and cash in, with the chance to try out Prime as part of a free trial if you never have before. Just remember to cancel your subscription before your free trial ends if you don't want to be billed in the future.
Once you've secured your membership, then you can sit back and wait for June 20 to arrive, as discounts will be applied on site automatically. Remember that other retailers may still be offering deals if you'd rather not sign up yourself, so there may still be deals to be snagged elsewhere.
10. Bookmark this page
We're already covering any Instant Pot offers that are arriving ahead of Amazon's big summer sale event, and will be continuing to do so as the day commences, so be sure to keep checking back for competitive prices and updates on offers.
More great Prime Day sales to explore