The best discount ink cartridges can save you up to 75% on the biggest running cost associated with your inkjet printer. And that's a lot if you're a frequent user. It's often joked that printer ink is the most valuable substance in the world, so being able to save money in this way could make a big difference to your day-to-day costs, potentially saving hundreds of dollars over the course of a year.
OEM ink cartridges are those made by your printer's manufacturer, and while it may be possible to find a bargain or two the real savings are found in remanufactured, refilled, or compatible cartridges made by third parties. They might not be up to the same quality manufacturing standards, but they'll work, and be a lot cheaper too.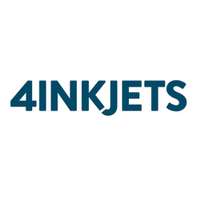 4inkjets
For the ultimate in discount ink the 4inkjets service does it all. You get your affordable ink cartridges at the lowest prices but you also get cheap shipping and a top quality service from start to finish. Expect a good variety of options and that two year guarantee is worth noting too. Limited time offer: 15% off ink + toner with code FUTURE4INK.
The amount you save depends on the model of your printer and the amount you want to buy. Popular printers are more likely to have compatible cartridges made for them, whereas if you've got a model that didn't sell well, you may be out of luck. Happily, printer manufacturers often share cartridges across whole lines of printers, so you may find one cartridge fits many models. Check out the social media pages of cartridge retailers too, to see if they're knocking more money off in special offers. Bulk buyers are also in luck, as the more you buy, the less you can pay per unit.
The best discount ink cartridge sites offer OEM, compatible, and remanufactured covering all the major manufacturers including HP, Canon, Brother, and Epson. You'll find compatible ink cartridges for every type of printer too, including compact printers, all in one printers, and photo printers. You can also buy printer accessories, toner, and replacement parts at these sites too.
For most people, the trade-off you make by buying discount ink cartridges - a little less build quality, perhaps slightly pourer print quality too - is worth it for the financial savings you'll make.
Ink cartridges explainer
Before we dive into the best discount ink cartridge sites, we need to explain the differences between the three main types of ink cartridges that you'll find on these websites.
OEM
OEM stands for original equipment manufacturer. This means that these are the official branded cartridges made by the company that makes your printer. These typically offer the highest quality, but they're also the most expensive option.
Remanufactured
Remanufactured ink cartridges are used ink cartridges that have been recycled, either by the original manufacturer or by a third party company. These are still compatible with the same printers they were designed for, but they may not be the same quality as brand new products.
Compatible
Compatible ink cartridges are designed and built by third party manufacturers. These are typically cheaper than OEM cartridges, but the quality can vary between different manufacturers and even specific models. We'd advise checking user reviews on specific cartridges before purchasing.
Best discount ink cartridges 2022
1. 4inkjets: Best discount ink cartridges overall
Why you can trust Top Ten Reviews Our expert reviewers spend hours testing and comparing products and services so you can choose the best for you. Find out more about how we test.
While 4inkjets might offer the lowest prices out there, it does offer the best balance between offering great discounts and having a wide range of ink cartridges, especially when it comes to those that work with the big names like HP, Canon, and Epson - and that includes OEM cartridges.
On top of that, 4inkjets also stocks just about everything else you could possibly need for your printer including paper, refill kits, toner, and replacement cables - it even sells 3D printing supplies. The prices are very competitive and schools or government agencies can get extra discounts.
4inkjets also offers a two-year guarantee on all its compatible or remanufactured products - it will refund or replace for the first year, and replace or refund with store credit for the second year. This is a huge benefit, especially as we're dealing with discount and third party ink cartridges here which can be less reliable and less high quality than OEM cartridges. It gives you some peace of mind that you're not going to sink cash into a broken product. OEM products bought from 4inkjets come with the standard manufacturers guarantee instead though, so be mindful of that.
On the payment front, 4inkjets takes a variety of payment options including credit cards, PayPal, personal checks, and Amazon Pay. You also get free shipping on orders over $50. Currently you can only place international orders to Canada, Puerto Rico, Guam, and APO addresses. There is also a customer service hotline that you can call if you have issues.
---
2. 499Inks: Best value discount ink
Some products just do exactly what they say on the tin, and that's the case here with 499Inks which sells a huge variety of ink cartridges for, you guessed it, $4.99. While it doesn't have the same kind of variety as other websites, it still stocks a huge number of ink cartridges that will work with almost any printer model out there. Overall we'd say that 499Inks is the cheapest discount ink seller that we tested.
The website isn't the most modern or sleek storefront that you'll find, but it's easy to navigate, letting you sort by brands and printer model. In addition to ink cartridges, 499Inks also has a limited selection of other products including toner (and oddly enough, face masks/ppe).
Shipping within the US is free if you spend $49, which is basically the same as our top pick, 4InkJets. This is a fairly standard free shipping rate, but it's worth noting that some others, like InkCartridges, do offer free shipping on all orders. InkCartridges accepts most major forms of payment including credit cards, personal checks, and PayPal.
499Inks impressed us with its social media presence - it's active on Facebook and regularly posts deals there. You can also get 5% off your first order, and 499Inks offers a one-year guarantee on all it's products, which isn't quite as good as 4InkJets's two-years, but it's still impressive.
---
3. Inkcartridges: Best ink cartridge shipping
With a name like Inkcartridges, you're never going to forget what these guys sell. Inkcartridges stocks ink cartridges that are compatible with all the major brands, but also a lot of the less common ones too. It also stocks a bunch of other printer products including paper, cables, and toner. The prices are competitive too, and as an added bonus you get free shipping on all orders in the US, regardless of size.
We found the website was easy to use, with numerous search and filter options to help you find the product you're looking for. Inkcartridges also offers the exact same two-year guarantee as 4InkJets - a full refund or replacement within the first year, or a replacement in the second year.
You can pay via credit card, PayPal, personal check, and even cash using a virtual credit card from PaidByCash. Schools and government organizations can also get extra discounts, but you'll need to contact a representative to arrange this. Inkcartridges has both online and telephone customer support channels should you have any issues.
---
4. 123inkjets: Best payment options
123inkjets has one of the slickest, most modern websites of all the discount ink cartridge merchants that we reviewed. More importantly, it's incredibly well laid out with categories for each brand. It's easy to navigate too, meaning you shouldn't have any trouble finding the ink cartridges you need.
123inkjets offers both OEM and remanufactured ink cartridges, so you can choose between savings and reliability (you'll still be saving money even on the OEM cartridges when compared to the MSRP). 123inkjets is one of the more expensive sites that we've reviewed though, so you will probably be able to find cheaper equivalents elsewhere.
You can get free shipping on orders over $55 (within the contiguous US), which is a slightly higher minimum spend than our top choices, but it's still a great deal. When it comes to payment options, you can choose between credit cards, personal checks, PayPal, and Amazon Pay.
Finally, 123inkjets offers a two-year guarantee on its compatible and remanufactured products. Much like other websites, this offers you a refund within one year, or a replacement in the second year.
---
5. Inkgrabber: The site that covers most brands
InkGrabber is another fine choice if you're looking to pick up cheap ink cartridges online. This family run business offers both OEM and remanufactured cartridges for all major brands of printer, and a lot of more niche ones too. Pricing is in line with most of the other websites that we reviewed.
The website can be a bit clunky to navigate, but you can just use the search bar to quickly find compatible cartridges for your printer by searching for it by name. Otherwise you can use the categories, but this sends you into several sub menus that are unpleasant to trawl through.
Shipping is free on all orders over $75 within the US, which is the highest free shipping threshold of any of the websites that we reviewed. Shipping to Canada or offshore US is a flat rate of $8.95. The returns policy only lasts for 90 days though, which falls well short of what the rest of the competition offers.
Ink Cartridge Advice
How we tested discount ink cartridges?
We've researched and compared prices between all of the major websites that sell discount ink cartridges, along with some lesser known and smaller businesses. We've looked at the major factors like price, quality, and range of products on offer. We've also considered other factors like shipping costs and how user friendly the website is.
On top of that, we've also evaluated these retailers in terms of payment options, payment security, and customer service to make sure you can choose a website that will offer you the best experience when shopping for cheap ink cartridges online. This includes looking at warranty and returns policies, along with the fine print and FAQs so that you can purchase with confidence.
What to look out for when buying discount ink cartridges?
Price
If you're looking to save money on ink cartridges, then price is obviously your main concern. Prices vary significantly depending on printer brands, models, and the size of ink cartridges you need, but you'll typically pay between $5 - $30 per cartridge. Some of the XL cartridges and bundles will set you back around $50, but these last a long time. OEM cartridges are more expensive than remanufactured and compatible cartridges, sometimes costing twice as much.
Price doesn't vary hugely between the various retailers when looking at equivalent products, but shipping costs do. Some sites offer free shipping on orders over a certain size, which can increase your savings if you buy in bulk.
Range of products
All of the websites that we reviewed stock ink cartridges for the main four printer brands: HP, Epson, Canon, and Brother. They also have ink cartridges for a range of other manufacturers including Lexmark, Samsung, Kodak, Astrojet, and more.
Alongside ink cartridges, you can also find a range of other printer products at these websites including toner, paper, and spare parts. 4inkjets and Inkcartridges also sell PLA filament spools for 3D printers.
Customer Support
Anytime you buy online, it's important to make sure the store offers plenty of support, including contact information and troubleshooting guides. With discount ink, it's also important to consider the site's customer satisfaction guarantee so you can get your money back if something goes awry.
Many sites claim they have a one- to two-year satisfaction guarantee, but the fine print says you can't get a cash refund. Some stores only allow exchanges or issue store credit. 4inkjets has the best guarantee we saw, letting you return unopened or defective discount cartridges for your money back for a full year after you place your order. 123InkJets and InkCartridges offer similar guarantees.
Because using remanufactured ink cartridges can void your printer's warranty, we recommend waiting until the warranty expires to use them.
Shipping and payment options
Nearly all the sites we researched offer free shipping on orders totaling a certain dollar amount. Many require you to buy $50 to $75 of product to qualify. If you find a site with a higher purchase minimum than that, we recommend you keep looking. Some stores, like Inkcartridges, offer free shipping on all orders sent within the United States.
Most of the sites we researched offer ground, two- or three-day, and overnight shipping. However, not all of them list every option online during checkout. Instead, they require you to call a customer service agent to expedite shipping. This is less convenient because it's much easier to manage your account online than over the phone.
At minimum, a site should accept traditional payment options like credit card, check or purchase order. Online stores that also accept modern payment methods, like Amazon Pay, PayPal or Google Checkout, are even easier to use.
How much cheaper are discount ink cartridges?
Buying ink refills through Amazon, or from your printer's original manufacturer might seem like the easiest way to keep your machine topped up, but it's not always the cheapest. These days, Amazon has gotten a lot more competitive though, so it's worth comparing prices between various sites to see where the best deals are hiding.
For example, if you wanted a HP 65XL tri-color refill for the HP DeskJet 3755, one of our top rated all in one printers, then you'd be looking at paying $35.89 on Amazon.
By comparison, at time of writing, a LD remanufactured N9K03AN that is compatible with HP 65XL models costs just $26.99 at 4InkJets, which comes to around a 25% discount. As we said though it varies from model to model, and between retailers too. You can find discounts as high as 75% on certain cartridges.
How do I know which ink cartridges my printer uses?
It can be deeply frustrating when you end up buying the wrong ink cartridges for your printer, and with so many different models and types of ink cartridges out there these days, it's easier than ever to make a mistake. So, how do you figure out which ink cartridges your printer needs?
The first thing you need to do is figure out which printer you have. That shouldn't be too difficult. Most printers display their name on the outer case somewhere, and if not you can also check the packaging if you still have it. You can also find out what type of printer you have by checking the system settings of the computer it's connected to. Once you've figured this out, a quick google search will reveal which ink cartridges are compatible with your printer. You can also check on your printer manufacturer's website.
On some of the best discount ink cartridge websites like 4InkJets, you can also search by printer model and it will show you all the compatible ink cartridges for that model.
What are the pros and cons of remanufactured ink cartridges?
One of the reasons discount ink cartridge stores can offer lower prices than places like Amazon and manufacturer stores is the fact that they sell remanufactured products. These are used cartridges that have been recycled either by the original manufacturers or third-party companies.
If you choose this route, you can expect to save between 15 and 50 percent from buying new cartridges. If you're environmentally minded or just want to save a few bucks, this is a great option for you.
However, there are a couple of things you should do before buying one. First, read reviews, not just the store reviews, but also the reviews of the cartridges themselves. You'll have a much better idea if it's right for you after reading others' experiences with them.
You should also check the warranty offered by the store you're buying from, since recycled products have a higher chance of being defective.
And finally, find out if the cartridge you're considering has been tested by an independent party and meets OEM standards, and if it's certified by the Standardized Test Methods Committee. Doing these three things greatly reduces the chance of your printer being damaged or getting a bunk cartridge.
Does printer ink expire?
If you don't use your printer very often, you may wonder if your ink will still be good after long periods of inactivity.
We asked Brian Westover, who reviews and writes about printers for Tom's Guide, and he told us that the ink itself will last a long time, but old ink does have the capability to harm the printer.
"Generally speaking, ink in the cartridge stays fine for some time. Eventually it will dry out. More often the problem is not the ink in the cartridge, but the ink in the outlet valve to come out of the cartridge. It can dry and create a blockage. It's even more of a problem in HP printers where the cartridge also has the print head in there, and all those valves are prone to that same sort of clogging," Westover explained.
If you're unsure about the ink in your printer check the expiration dates on the cartridge. Most ink cartridges expire between 18 and 24 months after you install them. So, even if you have plenty of ink, you'll still want to change your cartridge at least every year or two. We also have a great article that explains more about how to maintain your printer.
Is toner cheaper than an ink cartridge?
When you're choosing between an inkjet and laser printer, part of your calculation should include how much it's going to cost in the long run. Laser printers use toner cartridges and inkjets use ink cartridges, and which one you need can affect the cost dramatically.
"A toner cartridge will generally be more expensive than a similarly sized ink cartridge," Westover told us. He further explained that "the volume to page ratios are much different, so you get far more pages out of toner than straight ink."
He also emphasized the difference between the laser jet and inkjet printers. "If you're using toner, you're using a laser printer, which means it will be better suited to different uses, primarily text and graphics rather than photo printing," Westover said.
Basically, it's all about what you want to do with your printer and how that calculates into your buying decision. Our Inkjet vs Thermal vs Laser printer guide explains the pros and cons of each printer type if you need help making your decision.
Other ways to save money on printer ink
Finding the best deals on discount ink cartridges isn't the only way that you can save money when it comes to your printer's running costs. We've got a handy guide on how to save printer ink and print more efficiently, which will help you make the most out of your printer so you don't need to refill it as often.
You can also look at buying a more ink-efficient printer. Cheap printers seem like a great deal at first glance, but they often have much higher running costs than some of the more premium models, which can be a false economy if you're going to be using your printer regularly.