Best Internet Providers 2019 - Wi-Fi Service Companies Reviewed
We did extensive research and evaluated home internet providers for over 40 hours so we could help you choose the best one for you and your family. Xfinity, from Comcast, is our top pick for the best internet provider because of its connection speed, plan flexibility and availability in 40 of the lower 48 states, unlike several services that are only available in certain regions of the U.S.
Best for Home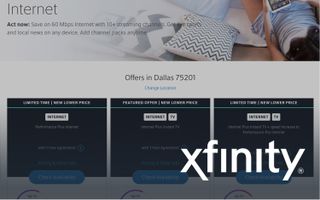 Xfinity is available in 40 states and offers download speeds starting at 60 Mbps. That is enough for five devices to be connected at once without experiencing slowdown.
Xfinity has internet packages that offer 250 Mbps for cable internet and 2 Gbps for fiber connections. The service has over 19 million hotspots to connect your mobile devices while outside your home to help you keep connected when you need to be. However, during our research, we learned that Xfinity isn't available in some major cities, like Phoenix and Tampa. With your internet service you get online security to keep your computer and other devices free from malware and shield you from online threats. However, this is a security program designed specifically for Xfinity users, so it hasn't been tested by third-party security labs – as other antivirus programs have been – to prove its overall effectiveness. Xfinity does apply data caps if you're not part of its Gigabit Pro service plan, which means if you reach the specified amount of data alloted to you each month before the next billing cycle, Xfinity may slow down your connection. It isn't clear on its website (or even the fine print) exactly what the data caps are for each plan, so you may need to ask before you sign your contract. Every Xfinity home internet package requires a one-year service agreement and may be subject to a $500 installation fee in addition to any equipment lease fees. You may be able to take advantage of some discounts by bundling your home internet service with phone, TV or home security services.
Best for Business
The best internet service provider for your home-based business is Comcast Business, the same company that offers Xfinity, our top pick for home internet service. Comcast offers internet speeds ranging from 25 Mbps up to 1 Gbps in some areas. Plus, ethernet is available for even faster internet speeds.
This service's internet connection includes 4G-LTE backup that will feed your connection power for up to six hours so your business can keep going in the event of a power outage. Comcast Business doesn't cap your data, which is an important feature. You can use Comcast's speed test on its website to see how fast your current service is and compare it to the plans and speeds available from Comcast in your area. You can also bundle other communication services with your Comcast internet. For example, the company offers landline phone service, cable television and video monitoring of your office. You will be locked in to a minimum two-year contract with your internet service agreement, but Comcast Business does give you a 30-day money back guarantee just in case you change your mind. Also, you may be eligible for free installation if you ask for it.
Best for Rural Areas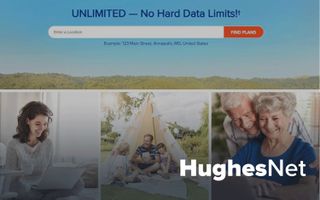 HughesNet is the top satellite internet service provider and one of the only companies capable of providing internet connections to rural areas where traditional cable and fiber optic service isn't available. It's available in 48 states, including Alaska and Hawaii, and it offers service to Canada.
One perk of HughesNet is the same packages and services are available in all U.S. locations, so it's easy to price and plan for exactly what you need from its website without giving out too much personal information or speaking with a service rep. HughesNet offers fast download speeds starting at 35 Mbps, which is fast enough for several devices to connect at once, or to stream video, without experiencing slowdown or buffering. HughesNet does cap data usage for some of its packages but allows faster speeds during off-peak hours between 2 a.m. and 8 a.m. without dipping into your monthly data allotment. When you reach your monthly data limit, the company doesn't cut off your internet access, but instead limits your bandwidth which slows down your speed. Several content providers, like DISH, partner with HughesNet to offer satellite internet services to their customers, but unless you're bundling internet with other services, it is usually cheaper to deal with HughesNet directly. Just be aware that you are locked into a two-year contract and HughesNet charges high fees if you cancel before it is up.
AT&T has both fiber and DSL internet available with its minimum service package. It also includes download speeds between 80 Mbps and 100 Mbps and a 1TB monthly data allowance.
That is fast enough to support multiple devices connected at once and is great if you have a lot of gamers in your home or you stream TV often on multiple devices. You aren't charged equipment or activation fees, plus your internet service comes with access to McAfee, one of the top internet protection programs that not only blocks malware from infecting your computer but also shields personal information from internet snoops. You also get 11 email accounts, POP access and spam filters. AT&T does give additional discounts and perks when you bundle your internet service with other services, including DirecTV. Cellphone service is also available and qualifies for bundled discounts. AT&T internet services are available only in 28 states, and it does require a minimum 12-month contract that is subject to cancelation fees.
All CenturyLink's internet plans come with Price for Life, a program that locks in your internet service package and price for as long as you have the service.
Even if you bundle your internet with other services through CenturyLink, such as television or cellphone, if you drop these other services but keep the same internet package, the price will remain locked in place. This makes CenturyLink a good value for internet service. This provider is available in 26 states, though most of these are in the lower western areas like Arizona, Nevada and parts of California. Packages range from $45 to $65 per month for DSL internet with speeds that vary between 12 Mbps and 120 Mbps depending on your service area. Fiber optic internet is also available, but you have to speak with a customer service representative to learn about CenturyLink's packages available in your area. Cable internet is not available.
Cox offers cable internet services with packages that start under $30 for 10 Mbps, which is a good enough speed for gaming or for sharing data with a couple devices connected at once. But 1 Gbps speeds are available with several other speeds in between so you can get an internet connection that works for you home needs.
Along with your internet service, Cox includes internet security through McAfee and 10 email accounts with 2GB of shared online storage space. If you sign up for the 1 Gbps speed package, Cox will give you 15GB of storage for each email account. All internet packages come with unlimited data use, which means Cox will never throttle or slow down your connection just because you've reached a certain data limit for the month. You can bundle your internet with other services offered by Cox, including cable TV, phone services and home security packages. Equipment needed to access the internet, such as modems, is not included with your internet package price and will be an additional fee. You can avoid this by purchasing your own modem. Cox has a list of compatible modems on its website.
Frontier Communications doesn't require you to have a phone to ensure the DSL internet service package you choose, which will range between $20 and $35 per month, is locked into a price for a full two years.
On top of the service fees, Frontier also charges equipment rental fees, installation fees and infrastructure surcharges, which could add another $10 to $20 to your monthly bill. You can purchase your own modem to save a bit, and Frontier lists compatible modems on its website. Internet download speeds begin at 6 Mbps, which is enough to check email and surf the web a bit, and go up to 25 Mbps, which handles a couple of devices connected at once, TV streaming or online gaming. However, these speeds are quite slow compared to packages offered from most other ISPs. Frontier has partnered with Dish to offer TV services that can be bundled with your internet package and may provide a discount to your overall service bill. Frontier is currently available in 38 states, though there are places in some of those states that Frontier doesn't service. For example, there are several zip codes in Phoenix that can't access Frontier even though it is available in other areas of Arizona.
Spectrum, the new name of Time Warner, has partnered with several other ISPs to provide cable networks that offer internet service in multiple areas across the United States. These include hotspots for users to connect online even when not at home.
High speed internet is offered with speeds starting at 60 Mbps, which is good for online gaming, streaming TV and having multiple devices connected at once without experiencing any slowdown or buffering. However, the only way to see specific pricing for your area is to enter your full address in the search field on Spectrum's website. And though it is available in just about every state, the service isn't available in a lot of areas within those states, with the exception of the East Coast. You can bundle your internet service with cable television or Spectrum's new mobile phone services. Some of these bundles don't require a contract, which means no hefty cancelation fees. But it also means your package price isn't guaranteed for a specific length of time.
Most Suddenlink internet packages include minimum speeds of 50 Mbps, which is enough to support both TV streaming and online gaming at the same time. One gig speeds are also available in some areas.
With your internet connection you get 10 email addresses and 54MB of shared storage, which isn't a lot, so you'll need to delete old messages so new ones can make it to your inbox without a problem. In addition to internet, you can use Suddenlink for television services, landline phone connections with unlimited local and long distance calling, and home security monitoring. Suddenlink doesn't post internet service pricing online. Instead you will have to follow through with the ordering process to see what is available in your area, or speak with a customer service representative directly. There are some perks offered if you order online, like free installation for certain packages. You can expect to pay additional fees for equipment rentals unless you already have a compatible modem. Suddenlink is only available in 13 states, and most service areas are located in rural areas of Texas and Louisiana.
Verizon offers fiber optic internet services, which means very fast download speeds and dependable service that isn't affected by weather or power outages.
DSL internet is also available with speeds between 1.1 Mbps and 7.1 Mbps, which isn't fast enough to support TV streaming or gaming. And Verizon requires you to have its phone service in order to have access to its DSL internet. Verizon's fiber optic internet packages start with download speeds of 100 Mbps and go up to 880 Mbps or 940 Mbps depending on the service area. Each package locks in your service price for a minimum of one year and up to three years for some packages. Along with fast internet connections, all fiber optic internet packages come with the option of Verizon's TechSure, which is 24/7 support plus access to McAfee internet security programs, LastPass password manager and LifeLock identity theft protections. Verizon is one of the few ISPs that give you 30 days to decide if you like their fiber optic service and cancel without a penalty.
Why Trust Us
We have been evaluating internet service companies for 13 years and satellite internet providers for seven. With reviewers from several parts of the United States, we have a good experience pool to pull from since we all appreciate media in all its forms. Additionally, because of the years we've spent researching everything internet and computer related, we've become experts in what to expect from an internet company – the quickness of download speeds and what should be included in your service agreement.
How We Evaluated & Reviewed Wi-Fi Providers
Because we couldn't subscribe to every internet service provider, we instead spent 40 hours looking closely at each service's plans, location availability, download speeds and pricing. We read the fine print in the Terms and Conditions to learn about early termination fees, contract lengths and promotional pricing. We're familiar with download speeds, so we know how fast your internet needs to be to support multiple devices connected at once, for video streaming or for an optimal gaming experience.
Each internet company includes an interactive map on their website, though it is hard to find without using the search feature. This is how we learned where their service areas are, including the number of states each service is in. It is difficult to figure out from some of the maps which cities are covered. So we used six home address in some of the big cities in different regions of the United States, and searched for internet service availability on each company's website. These addresses were in Tampa, Oklahoma City, Los Angeles, Boston, Phoenix and Detroit.
When we couldn't find the information we needed from the ISP website, we contacted their customer service representatives either by email or telephone, sometimes both. In most cases this helped us track down the information we needed while also giving us a chance to evaluate the quality of the company's customer service.
Know Before You Sign
Who Has the Best Internet Service?
We chose Xfinity as the best internet service provider because of its impressive download speeds, internet security and availability in more areas than any other ISP. But Xfinity isn't the only good internet service provider, even if it is available in your area. This is because your specific needs, including monthly budget, number of connected devices and other needs, such as television or phone services, may require you to look into another ISP in your area.
Each of the internet companies we reviewed has maps and lists of areas they serve on their websites, and you can enter your home address to make sure the company services your area. Some companies, such as Suddenlink, will show you the companies that are available in your area if they don't offer internet services.
Equipment Needed for Internet Service
To connect your computer to the internet, you need both a modem and a router. While it is common to have separate boxes for each, there are some models that are a combination of both a modem and router. Here's a little more about each device and why it's needed.
Modem
A modem is needed when your internet connection uses a telephone line (DSL) or cable wire (cable). The modem converts the signal from the line into a signal that your wireless devices, including computers, cell phones, smart TVs and internet of things (Amazon Echo), can recognize and use. Often your ISP will give you a modem that is compatible with their system for a monthly fee or they'll let you purchase it outright. However, you don't have to use this modem and may purchase one from somewhere else.
Top Ten Reviews tested several modems that cost less than the typical purchase or lease options from most internet service providers. There are several great options with dependable service that are easy to use. You can learn more about modems and how to know what information you need to find the perfect fit for your internet needs in our side-by-side comparison of the best cable modems.
Fiber optic internet also requires a type of modem, but it is a bit different than DSL or cable. Check with your internet provider for the specific equipment needs for fiber optic internet.
Router
A router is the device that transfers your internet connection to your devices, including computers, TVs and IoT devices like Google Home. In the past, in order to have an internet connection you had to physically plug your device into the router. And there are some devices still out there that can only connect online with a wired router. Wireless routers are more common now, and if you are a new internet customer, your service provider will lease you a wireless router if you don't purchase one on your own. But neither type of router will work without first subscribing to an internet service.
A wireless router is connected to your telephone or cable line. It then converts your connection into radio waves and sends the signal to your devices. On top of internet service, wireless routers are used for TV streaming and digital TV access through smart TVs and products like the Amazon Firestick. You can also use your wireless router to make calls over the internet, which is typically cheaper than using a landline.
What Is DSL Internet?
DSL, or Digital Subscriber Line, is delivered to your home through the same wires used by landline telephones. You will need special equipment, usually provided by your ISP, in order to use both the internet and telephone at the same time so one or the other isn't bumped off. You can still get impressive download speeds, up to 120 Mbps in some areas, and using a wireless router can connect multiple devices to the internet without each one having to be physically attached.
What Is Cable Internet?
Cable internet connects you online using the same cable used to bring television service to your TV. Because of this, cable television companies, like Xfinity, are the only ISPs that are capable of providing this type of internet service. Other companies, like CenturyLink and AT&T, partner with cable television companies while also providing your telephone service in what is often referred to as a bundled package. You may pay for cable internet as part of your overall communication bill, but the connection itself is still provided by the cable company. Some communication companies may offer a bundled package with a separate internet service but still require you to pay the cable company directly for its services. The best way to learn if your bundle is paid as a single or separate bill is to read the terms and conditions posted on either the internet service provider or telephone service's website. This is also a good place to see if you'll be required to keep the cable internet service for a specific time, usually two years, even if you drop your telephone company's service.
What Is Fiber Internet?
The terms "fiber optic" and "cable" are often used interchangeably because both use a cable to deliver internet service to your home. However, fiber optics are made from glass rather than metal, so there is no electricity involved. This makes fiber optic internet more reliable than both regular cable, also called broadband, and DSL internet connections. For example, you won't lose connection during a power outage or experience slowdown because of weather.
Fiber connections also have faster speeds than other types of internet connections, with download speeds as fast as 10Gbps. In addition, a fiber optic connection can support multiple households at once, and you won't experience slow down when everyone in the neighborhood is online at the same time. This reliability makes fiber optic internet the best option for gamers.
Half of the ISPs we compared offer a fiber option, including Frontier and Verizon. However, there is no guarantee a fiber internet package is available in your area. And if fiber is available, note that it may cost you between $20 and $50 more than DSL or cable internet.
What Is Satellite Internet?
This type of internet uses three satellites dishes in much the same way satellite television is sent and received. The internet service provider sends its signal to a satellite orbiting the earth. The signal bounces off the satellite and back to earth to the receiving dish attached to your house. The signal travels via a short cable to your modem so you have an internet connection. The process is very fast and pretty reliable. Satellite internet is typically used in rural areas where DSL, cable or fiber optics aren't options, and HughesNet is the biggest provider. Costs are comparable to other internet services, around $50 per month, plus equipment rental fees around $15 per month.
There are some drawbacks to satellite internet, though. Weather can impact your connection, and your satellite receiver dish needs to be clear in order to receive a strong, uninterrupted signal from the orbiting satellite. Snow on the receiver, or even a strong wind that blows trees in and out of its line of communication can cause connection issues. Also, most satellite internet packages cap your monthly data use. Once you reach this cap, expect the connection to slow down enough that you can't stream TV services well, and website load times will also be noticeably affected.
How Much Is Internet Monthly?
Determining an exact price for monthly internet service is difficult. But you should expect to pay between $30 and $60 per month for either DSL or cable internet. Fiber optic services are around $80. A handful of providers, such as CenturyLink, have internet service packages available only to low-income families. These packages have slower speeds that only support one or two connected devices at a time and usually don't provide enough speed for gaming or TV streaming. Low-income packages aren't always listed on the ISP's website, so you might have to contact the provider directly to see if this option is available.
Most internet service companies require you to sign a service agreement that locks in your monthly internet price, usually for a year or two. In addition to your base monthly internet fee, you can expect to also pay an equipment rental fee for the use of the company's modem or router needed to connect to the internet. You can opt to purchase a wireless router or cable modem outright and bypass this charge. It's also not uncommon for companies to charge a one-time fee between $100 and $200 for setup and connection.
Which Internet Service Provider Is Best for Gaming?
Each internet company we compared offers several plans and packages to choose from. Most let you choose between DSL, cable or fiber optic, also known as FiOS. Each has variable download speeds, which is the speed ISPs use to define how fast your internet is.
Cable internet services, like Spectrum, offer packages with 12 Mbps download speeds, which is a good starting speed for gaming. Anything slower causes noticeable drag and buffering during your online play, especially if you have more than one console connected to the internet at once for party play, or you need to share data with others in your home.
Fiber optic connections are faster and much more reliable for online games because they use a dedicated line. Fiber optic internet also is not affected by weather or power outages in the same way cable is, making fiber the preferred internet connection by professional gamers. We recommend Xfinity because of its impressive speeds for both cable and fiber optic internet service (up to 250 Mbps for cable and 2 Gbps for fiber), its widespread availability and its service plans that won't cap your data.
Which Internet Service Provider Is Best for Streaming TV?
Streaming TV services, like Netflix, don't require a fast internet connection. In fact, Netflix claims you only need about 5 Mbps in order to use its service. Every internet service provider we tested offers packages with starting speeds well above this. So you will easily be able to watch a single video with a clear picture. However, if you want to watch live television streaming, higher resolution videos (4K or ultra HD) or share your internet connection with other people or devices in your home, look for an ISP package with a minimum download speed of 25 Mbps. It will also help to tap into an internet service provider, like Verizon or AT&T, that offers high speed internet connections through fiber optic. This connection isn't affected by weather or power outages, so you can continue watching TV through a fully charged device, like a smartphone or tablet.
Security
Most service providers include some form of internet security or antivirus software to protect the devices you connect to the internet. Some companies, such as Xfinity, have their own security software. While these proprietary programs may provide security, it is difficult to independently test and evaluate them. Other providers, such as CenturyLink, partner with well-known security companies, like Norton, to protect your devices. These security programs are regularly tested by Top Ten Reviews in our own in-house testing, and by other third-party laboratories, like AV-Comparatives, and included as part of our internet security reviews.
Most internet providers we reviewed also include parental controls with your subscription. The included tools are typically very basic and limit you to adding URLs to a blacklist. You can add more protections including time controls and internet filters to existing parental controls with a standalone monitoring program.
Service Details
Along with your internet service, your provider will give you several email accounts, usually about 10. This means everyone in your family can have their own verified email address that can be used for subscriptions, such as eBay, that require a valid email address that isn't from a free email service. But to avoid having to delete saved messages when your account gets full, it's important to choose a service that gives you enough storage. Most of the internet providers we reviewed, such as Cox, only give you 2GB total to share between email accounts, which is enough to hold about 40,000 basic messages without attachments. Xfinity gives you 10GB of storage and Cable One gives you 15GB, which can hold 300,000 messages before you need to start making room.
Do You Need an Internet Provider to Use a Wireless Router?
Yes. A router is the device that transfers your internet connection to your devices, including computers, TVs and IoT devices like Google Home. In the past in order to have an internet connection you had to physically plug your device into the router. And there are some devices still out there that can only connect online with a wired router. Wireless routers are more common now, and if you are a new internet customer, your service provider will lease you a wireless router if you don't purchase one on your own. But neither type of router will work without first subscribing to an internet service.
A wireless router is connected to your telephone or cable line. It then converts your connection into radio waves and sends the signal to your Wi-Fi enabled devices. On top of internet service, wireless routers are used for TV streaming and digital TV access through smart TVs and products like the Amazon Firestick. You can also use your wireless router to make calls over the internet, which typically is much cheaper than using a landline.
What is the Best Wireless Router for My Internet Connection?
Most internet users want a router that is cheap and don't really care about speeds, especially since wireless routers are all designed to support decently fast connections. The biggest difference between them tends to come from custom options, such as the number of ports, the types of parental controls, and the ease of contacting manufacturers. You can learn more about top router models, including our own findings, in our side-by-side comparison of wireless routers.
We found the best wireless router to be Linksys WRT1900AC because it supports all types of internet connections and speeds, and it has parental controls that let you cut off internet access to specific devices while allowing others access. There's also an internal fan that keeps it cool and extends the life of the router. It also has multiple USB ports so you can set up your own home media server. However, the Linksys WRT1900AC is more expensive than most other wireless routers. Linksys does offer a cheaper model, the Linksys E1200. It has four ethernet ports and parental controls, but it doesn't have USB ports and doesn't support faster data speeds needed for newer computers and devices.
Related Product Reviews