The best smart pen was designed to streamline your work or studies. By offering digital synchronicity to all the essential cloud systems, your smart pen will be able to organize all of your notes, and make sure that you never lose your hand-written notes again.
For some, a smart pen offers the chance to make notes without a laptop or tablet, whereas others may prefer the ability to write by hand, but without the danger of having no digital backups of their files. Either way, these smart pens will come with long battery lives and rechargeable designs that will feel nice to hold and display.
If you've decided you're going to take the plunge and buy a smart pen, there are a lot of things to consider to ensure you're making the right choice for you. With so many options out there, it can be an overwhelming choice - luckily, we've tried and tested a range of smart pens to present you with the top picks available right now.
Some smart pens are only compatible with specific tablets or brands of paper, so make sure to check that before you buy. If sustainability is important to you, you can also forgo paper and write straight onto a graphics tablet.
A neat feature that some of the best smart pens can include is a built-in voice recorder. This is great for students or journalists who want to record audio and take notes at the same time. Please note that this can add extra weight to a smart pen which some might find uncomfortable. In this case, we'd recommend taking a look at a separate digital voice recorder instead.
Once you're armed with one of the best smart pens, check out our best laptops guide to take your productivity game to the next level.
Black Friday smart pen deals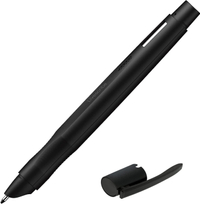 Livescribe Echo 2 Smartpen: was $149.95, now $121.27 at Amazon
We like the Livescribe Echo 2 Smartpen for its extra-long standby battery life and iOS compatibility. This pen goes one step further and can even create audio recordings, making it ideal for students.
The best smart pens
The Neo Smartpen N2 is easy to set up and feels comfortable in your hand, but it does require special notebooks and writing pads to function.
The pen itself is one of the longest we tested, but the metal body and elegant design offer an attractive alternative to many of the triangular digital pens on the market. It's also incredibly easy to use; all you have to do is press a button on the bottom of the pen to turn it on. You can also toggle the Bluetooth and pairing settings using buttons on the pen. When we put the Neo Smartpen N2 through our writing and drawing tests, it performed better than average but there were a couple of errors in both the writing and drawing tests.
This Neo Smartpen N2 charges through a micro-USB port located on the top of the pen. The lackluster five-hour battery life is the shortest of any pen we tested, so it will require frequent charging if you're a heavy user. Set up was quick though, only taking around 30 seconds to pair up the pen to our smartphone. If you're looking for a sleek, metallic smart pen that works well and feels great, the Neo Smartpen N2 is a solid choice.
---
The Moleskine Pen+ Ellipse is part of the Moleskine Smart Writing System, a collection of high-quality products by the famous Italian paper maker. The Smart Writing System includes the Pen+ and Ncoded Paper Tablets.
Like many of the smart pens we tested, the proprietary paper to work properly, but of the pens we tested, the Moleskine Pen+ Ellipse requires proprietary notebooks to function. However, we can comfortably say that Moleskines are the best, as they don't sacrifice style or practicality. You pay a hefty price for these fancy notebooks though. The pen itself is sleek and weighs about as much as five regular Bic pens. It's comfortable to hold and easy to write with, sporting a triangular design and slender profile.
In our handwriting tests, however, the Pen+ recorded only one error when we wrote out the full Gettysburg address. Likewise, transcribing the written words to the app had highly accurate results, even with messy handwriting. But it didn't fare as well in our drawing tests, so it's not the best choice for artists.
Despite that, the great handwriting accuracy paired with the app's ability to record audio make it great for note-taking during lectures or meetings.
---
The Livescribe Echo almost has it all. It delivers fantastic accuracy for both writing and drawing which is vital for a smart pen. It also comes with a built in audio recorder, allowing to you to record interviews and lectures so that you can write them out later. It even has a great battery life despite these added features.
Sadly where the Livescribe Echo falls down is in the comfort department. Because it has an audio recorder stuffed into its casing alongside all the other technology, Livescribe have had to make the Echo extraordinarily bulky to accommodate all this tech which makes it cumbersome to use.
With all that said, if you're looking for a combination smart pen and audio recorder, the Livescribe Echo is still a fine choice.
---
The Livescribe 3 Smartpen is the best smart pen we tested thanks to its phenomenal accuracy in both writing and drawing. It's also comfortable and easy to use thanks to its soft-rubber grip and round design. We were suitably impressed with the breezy 30-second setup time. Syncing the pen was effortless once we installed the app on our smartphone.
The Livescribe 3 Smartpen didn't record a single inaccuracy in either our writing or drawing tests. The Livescribe app also impressed us. Digitizing your handwriting is as easy as swiping left or right. You can also start or stop audio recordings using the app or the navigation icons printed at the bottom of Livescribe's notebooks, which is a neat feature.
This Livescribe 3 Smartpen has an impressive battery life, lasting for up to 14 hours of continuous use. It is charged via a micro-USB port at the tip of the pen. Though Livescribe 3 Smartpen is one of the fattest and heaviest that we tested, the round design was surprisingly comfortable to use, especially when compared with some of the triangular digital pens we tested. Overall, the competitive price and advanced features of the Livescribe 3 Smartpen earn it the top spot in our rankings.
---
Whether you're a casual doodler or a professional artist, or anyone in between, the Wacom Bamboo Folio Smartpad is the ideal smart pen for your needs. Thanks to the accompanying smart pad, you can use any type of paper with the smart pen, which is perfect for artists who need their ideal canvas.
During our writing and drawing tests, the Wacom Bamboo Folio Smartpad was almost perfect with only one small error across both tests. It's also one of the most comfortable smart pens we've tested and features a simple twist mechanism to turn on. The pen itself doesn't need charging, while the pad itself will run for eight hours before needing to be charged via micro-USB. It took us just over a minute to set up the smartpad and pair it with our smartphone.
Using the smartpad is simple, you just place a sheet of paper over the smartpad and start writing. When you're finished, you can easily upload your work by pressing a button to synch the smartpad with your smartphone. This instantly saves your work to the Wacom Inkspace app. From here you can directly view and even edit your masterpieces. If you're serious about drawing, then Wacom Bamboo Folio is the smart choice.
---
The Newyes SyncPen 2 smartpen is a hybrid as it comes with both a special notebook and 10-inch LCD tablet for writing on. Write with the pen nib, in the book, or swap out for the plastic tip and use the tablet for extras like color choices and different pen styles.
The pen itself is high quality, made of metal, but remains comfortable and relatively lightweight. Writing is converted to text and it's possible to make audio recordings via the app. This isn't that cheap up front but considering you get the tablet, writing pad, pen and nibs all included, that's fair enough.
---
The Livescribe Symphony is a fantastic blend of features, quality build, comfortable use and reasonable price. This reflects a company that's been working towards perfection for years and this is pretty close to that.
The pen is ergonomically comfortable and easy to write with yet offers decent 10-hour battery life, converts writing to text live and lets you dictate using a paired smartphone. Yes, you are required to use special paper for detection and there was a pairing issue or two in testing, but overall, for the price, this is very impressive.
Charging is quick and easy via USB, making this a go anywhere option that you don't need to worry about dying with its 90-day standby time. It's also so discreet you won't be noticed as using a smart pen, nor will you notice, as this is so comfortable and natural to use.
---
The Rocketbook Core offers a different take to the other smart pens on this list. The Core is a notebook, made with 36 polyester composite pages which, when used with the included Pilot FriXion pens, can be wiped clean. This means writing, clearly and naturally, then scanning using the app, before wiping clean to use again. That makes this a super affordable but also sustainable pick.
The scanning part is the only effort, but this couldn't be easier as pages are recognized using a QR code and you can even select icons at the bottom of the page to have the writing uploaded to specific cloud storage locations be it Google Drive, Dropbox, Evernote and more. This even offers handwriting recognition so you can search your words digitally and use handwritten headings as digital titles.
---
The Repaper Tablet successfully combines pencil and paper with digital drawing at a very reasonable price. The special magnetic technology of the Repaper Ring means you can slip it onto a pencil of your choice and draw directly onto paper that you secure to the A5-sized tablet space. You'll see that pencil drawing come to digital life in real-time on your smartphone, tablet, or computer.
We were impressed with how well the pressure sensitivity worked, allowing us to control how thick and thin we wanted our lines to be. The Repaper Tablet can also be used as a graphics tablet using the provided stylus, or you can go totally screen free and use the Repaper Tablet with paper when you're on the go and upload your drawings later to edit.
Both the Repaper Tablet itself and the free Repaper Studio app have clean, simple designs that make them intuitive to use for both adults and kids. The app is also compatible with many other software programs, such as Adobe Photoshop or Gimp for more extensive editing.
You can also use the Repaper Tablet for notes, but it doesn't digitize text so it's better for visual styles of note taking, like creating mind maps. As an added bonus, the Repaper Tablet also works well with Microsoft Whiteboard and Google Jamboard, so it makes live broadcasting and giving online presentations on Zoom or Teams super simple.
---
This tablet isn't a traditional e-reader; it allows you to take notes on PDFs and e-books alike, which is handy if you're an English or literature major. The 10.3-inch touchscreen and 32GB of storage make reading on the go a breeze, and the comfortable stylus is ideal for note-taking. As well as annotating books, you can create your own notebook to clean up your notes or export them to another device.
What to look out for when buying a smart pen
Why buy a smart pen?
Why you can trust Top Ten Reviews Our expert reviewers spend hours testing and comparing products and services so you can choose the best for you. Find out more about how we test.
Smart pens aren't as popular as they used to be, largely thanks to the rise of stylus devices like the Apple Pencil which let you write directly onto a tablet or laptop screen, but they still have their uses.
For one thing, a lot of people prefer the tactile experience of writing on paper, which is something that a stylus on a screen can't replicate. Smart pens are also better than dictaphones or voice recorders for a lot of people as writing down notes actually helps some people to learn and retain information better than just hearing it spoken aloud.
Finally, some people just don't want to lug their laptop or tablet around with them to lectures and meetings, as they're quite bulky and also very expensive. If your smart pen gets lost or stolen then you'll be down $100 or so, but that's nothing compared to the cost of replacing something like an iPad Pro or laptop.
When choosing the best smart pen, you'll want to think about accuracy and feel. It's important for a smart pen to respond to what you're writing and create an accurate image. Additionally, comfort and design are key - you'll want to find a pen that feels like a traditional one, and one you're comfortable writing with for extended periods of time. Price and battery life are also important elements to consider when making your choice.
What are the downsides of a smart pen?
While there are many great features that make smart pens worth owning, they do also have a few downsides that are worth considering. Obviously, they're far more expensive than just a regular pen and paper, so you need to consider how important digitizing your notes and doodles actually is.
They're also still just pens, which means the quality of your digital notes is dependent on the quality of your handwriting. If you have the indecipherable scribblings of a doctor then a digital pen won't help you - you'll just have a load of unreadable gibberish on your computer, as well as your notepad.
Finally, smart pens are usually a lot heavier than normal pens, which makes them uncomfortable to write with over long periods of time. Many smart pens also have strange shapes and designs to accommodate all the technology inside them, which means they're often quite chunky. This means they feel weird to write with, when compared to traditional pens.
Can smart pens help with dyslexia and learning disabilities?
The short answer here is: yes. On a basic level, smart pens not only allow students to take notes more effectively and to suggest changes when transferring to digital, but the voice recording function also allows people to recap their notes at a later stage, and make any corrections they need.
According to a study done at Raynooth University in Ireland, almost all students with learning disabilities managed to show improvement after periods of using smart pens vs regular pens.
While there's undoubtedly a vested interest, LiveScribe list their smart pens as being able to help students with dyslexia on their website, and many others promote the virtues of this smarter, and multifaceted, form of note taking.
Stylus for touchscreen tablets and smartphones
The smart pens we tested digitize handwritten notes and drawings and send them wirelessly to mobile apps on a phone or tablet. If you prefer sketching or taking notes on mobile devices by touching a pen directly to the touchscreen surface instead of to a conventional notepad, a stylus is the best option. Here are some of our favorite styluses for mobile devices.
If you're looking for a premium stylus to go with your iPad Air 4, then the second generation Apple Pencil is the obvious choice. It won't work with other devices though due to the way it records and sends its position to your tablet. In fact, it won't even work with other Apple gadgets like Macbooks, just the iPad Pro 12.9-inch (3rd and 4th generation) and iPad Pro 11-inch (1st and 2nd generation).
The Apple Pencil syncs and transmits positioning data to your iPad via a Bluetooth signal. This might seem like a needlessly complicated way to make sure it only works on Apple devices, but in reality this system allows for much more sensitive data collection.
When using the Apple Pencil, it can detect how hard you're pressing down and input accordingly, allowing you to accurately shade digital images just like you would a real drawing. When you draw on the pressure-sensitive screen with the side of the tip, it creates wide strokes perfect for shading. For handwritten notes, the tip has a fine point that's extremely accurate. It's pricey, but you get what you pay for.
Adonit makes a huge range of styluses that work with a much broader range of devices than the Apple Pencil, so this might be your best bet if you have an older device. The Adonit Note+ is the direct competitor to the Apple Pencil, working with modern Apple devices like the iPad Air 4 and the latest iPad Pro models too.
It offers palm rejection, pressure sensitivity and tilt support, which makes it ideal for artists who want to draw in normal, comfortable positions without worrying about their hand leaving marks on their drawing.