The TASCAM DR-05 is one of the most popular portable audio recorders on the market and the best digital voice recorder for business professionals. It's exceptionally easy to use and records excellent high-end audio at a fraction of the cost of other digital recorders. The OTRF microphone configuration provides great stereo depth for business meetings and conferences. It's also one of the most popular digital voice recorders on web retailers like Amazon.
This hand-held recorder comes with two omnidirectional microphones set up in an OTRF configuration, which provides the widest stereo image possible. This is great for boardroom meetings and interviews because it provides audible separation between the voices. On the other hand, it's not ideal when you need to focus on one voice over many, and the microphones aren't adjustable – some digital voice recorders have microphones that swivel to create an X/Y or A/B configuration.
The microphones record in CD-quality 16- or 24-bit linear PCM audio with sampling up to 96kHz. You can adjust the playback in WAV, BWF and MP3 file formats. An MP3 is just a compressed version of a WAV file, and both formats are universal. The BWF format is a type of WAV file that has embedded metadata that allows it to synchronize with video, which makes this portable recorder great for podcasts and film.
The TASCAM DR-05 lets you change an audio file's playback speed without changing the pitch. This is useful for transcription, and the feature works quite well. Many digital voice recorders allow you to adjust speed but with varying quality results; some make the audio unbearable to listen to, but the TASCAM DR-05 makes the change smoothly.
Another one of the recorder's great features is level align, which adds a filter that's similar to a compression filter to level out uneven volumes. This is convenient when you listen to audio from an interview or boardroom meeting and some voices aren't very loud. The DR-05 adjusts the volume of the quiet talkers in your meetings to match the loudest voices so every voice stands out clearly. There are also three low-cut filters that minimize low ambient frequencies such as the hum from an air conditioner.
When paired with dictation software, this digital voice recorder makes it exceptionally easy for business professionals to capture information that would otherwise fall through the cracks of normal pen-and-paper notetaking. In addition, it's the easiest device to use that also records great audio, which is a significant advantage. You can take it out of the box and start recording immediately, and you don't have to be a sound engineer.
Need a better alternative?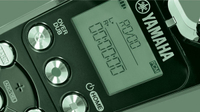 Best Digital Voice Recorders of 2019
Top Ten Reviews has reviewed the Best Digital Voice Recorders of 2019 so that we're able to offer you the authoritative buying advice you expect.