The Black & Decker GH900 electric weed cutter is an economical, lightweight electric string trimmer that cuts through weeds and grass quickly with its 6.5-amp motor. Plus, the 14-inch cutting path is wide enough to outperform many machines we reviewed. And it only weighs 5.5 pounds.
The shaft adjusts to different heights, and it rotates so you can use it to trim weeds and overgrowth and then rotate it into edging mode. It also has a single wheel that allows you to move it along the sidewalk or driveway as you edge your lawn. A double-wheel design tends to be more stable, but single wheels are common for this price point. The handle in front can also make it awkward to maneuver at certain angles.
This Black & Decker string trimmer has an automatic line feed, letting you adjust line without removing the cap every time. While the automatic line feed is a nice feature, many online reviewers say it sometimes has trouble feeding line and that it goes through line quickly. The line also tends to dry out if it sits too long. Black & Decker suggests storing additional spools of line in a plastic bag with a tablespoon of water to keep the line from drying out. This may prevent it from breaking as often.
You can find a user manual online, as well as contact information for the product. You can contact customer service via phone or email with questions. This cordless trimmer only comes with a two-year warranty, which is short for a seasonal product. Many of the products in our string trimmer reviews have warranties lasting up to five years.
While this Black & Decker model will satisfy most of your needs, its big brother – the Black & Decker LST136 – was our top pick for this category.
The Black & Decker GH900 is lightweight and versatile, functioning as both a trimmer and an edger. It has a decent 14-inch cutting radius and a wheel for easy maneuverability along a sidewalk or driveway while you are edging. We would like to have seen a longer warranty than two years, especially for a seasonal product, but its strengths make it a recommendable product.
Need a better alternative?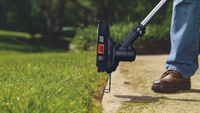 Best Electric Weed Eaters 2019
Top Ten Reviews has reviewed the Best Electric Weed Eaters 2019 so that we're able to offer you the authoritative buying advice you expect.