The Earthwise ST00115 is a corded string trimmer with a wide 15-inch cutting path and a 5-amp motor. This is more than enough area and power for most lawns. It has a rare safety switch feature which ensures that it only starts when you're ready.
With this model, you have to maneuver around the extension cord and deal with length issues if your yard is large. If you're used to a cordless design, this may take some getting used to. The cord-retention hook in the handle allows you to wrap the extension cord around it so the cord won't come unplugged.
To help you get your job done quickly, the electric weed trimmer has a dual-line feed, which means there are two lines rotating around the head of the trimmer. The string the electric line trimmer uses is the standard 0.065-inch line.
This weed eater has an adjustable handle to give you full control over different types of terrain. The electric string trimmer weighs 6 pounds, which is lightweight when compared to other products in our electric trimmer reviews. Additionally, the shaft is extendable for people of varying heights.
The shaft on this grass trimmer is straight. This is generally an advantage, especially when you're trying to reach under low decks and other hard-to-reach places. The head adjusts into three different positions so you can get the best trimming angle.
The electric weed eater doesn't require any tools to change the spool in the machine. As its name implies, this is an environmentally friendly machine, leaving no carbon footprint. It has an auto feed line so you won't have to mess with it manually, until it's time to change the spool.
This trimmer comes with a two-year warranty, which is shorter than average. A contact number and email address are listed, but the phone number isn't toll free. You can download a helpful PDF user manual from the main product page.
This electric weed eater might be good for some situations. But if you want the best of the best, consider our top pick – the Black & Decker LST136.
The Earthwise electric string trimmer has a dual-line head, a 15-inch cutting swath and a 5-amp motor, which should ease the burden of trimming your lawn. The head adjusts to different angles, which makes it nice for trimming different types of terrain. It also has a safety switch to guard against turning the trimmer on prematurely. This is an environmentally safe product that comes with a two-year warranty. Overall, this electric string trimmer has some bonuses that make it a good machine to get your lawn work done efficiently.
Need a better alternative?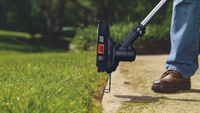 Best Electric Weed Eaters 2019
Top Ten Reviews has reviewed the Best Electric Weed Eaters 2019 so that we're able to offer you the authoritative buying advice you expect.