The Greenworks 21212 is an affordable and functional electric string trimmer with a 4-amp motor. This weed eater is fairly basic in terms of its feature package, which is something you might expect from a cheap weed eater, but it manages to do a lot with its features.
The 4-amp engine is not the most powerful of the products we reviewed, yet it has plenty of power to get rid of most of the overgrowth in your yard. The shaft is on the short side, and while it is adjustable, it doesn't extend far. If you are taller than 6 feet, this trimmer may be too small. While the head doesn't rotate for edging, the shaft rotates to make it comfortable to hold for edging.
The retractable metal flower guard doubles as a guide when you use it in edging mode. This is not as easy to maneuver as a pivoting head with wheels, but it's nice that you can perform this kind of detailing on your lawn with a trimmer at this price point. It is a lightweight trimmer at 5.2 pounds, so holding it at different angles is easy. The small-sized shaft comes in handy when you use it in edging mode as well.
The 13-inch cut path is decent and should handle most of the cutting and trimming in your yard. It also has a single-line auto line feed so you won't have to worry about manually adjusting the spool every time. If you want a wider cutting path, consider the other Greenworks model we reviewed.
As with all electric weed eaters, this trimmer releases zero emissions into the atmosphere. Greenworks prides itself in manufacturing products that environmentally friendly.
This trimmer has a generous four-year warranty, which is competitive with other models in our comparison.
The Greenworks 21212 is the most affordable electric trimmer we reviewed. While the feature package is basic, it is also quite versatile. The shaft rotates so you can turn the trimmer upside down or on its side to edge. It is a corded trimmer that has plenty of power to maintain a beautiful yard. The four-year warranty is also quite generous in case you have any issues.
Need a better alternative?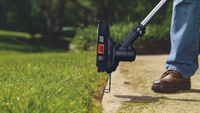 Best Electric Weed Eaters 2019
Top Ten Reviews has reviewed the Best Electric Weed Eaters 2019 so that we're able to offer you the authoritative buying advice you expect.