While the Toro Electric Trimmer and Edger 51480 is not the most powerful electric string trimmer in our lineup, its 5-amp motor provides plenty of power to effectively trim your lawn or rid your yard of annoying weeds. It's lightweight at 7.5 pounds and has a generous cutting width of 14 inches. This makes it easy to handle to get the job done.
This electric trimmer is corded, which has its advantages and disadvantages. The cord can get in the way at times, but you will never have to worry about recharging or replacing the battery, and power is always available. You won't need to worry about losing power halfway through a job, and the trimmer never slows down due to a weakening battery.
The head rotates with the touch of a button so you can whack weeds, trim and do detailed edging. The shaft is also extendable to make it comfortable for people of different heights. There is an integrated wheel on the side that helps you stay on track when edging. This is a nice, somewhat uncommon feature. Its built-in guide, which also helps you stay on track while edging, lifts up so you can edge close to a wall or around obstacles like rocks. These features make this trimmer one of the more versatile in our comparison.
When you pull a trigger on the handle, the line should automatically adjust to the right cutting length. However, the auto feed doesn't always work so you may have to remove the cap at times to manually adjust the line.
This Toro electric trimmer has a two-year warranty, which is below average. Most of the products in our string trimmer reviews have at least three-year warranties, and many have warranties as long as four or five years.
While this weed eater is a good choice, it wasn't our top pick. That honor went to the Black & Decker LST136.
The Toro Electric Trimmer and Edger is versatile and easy to handle. It has plenty of power to get the job done, drawing on 5 amps from an outlet. Its adjustable head is a nice feature, making it a versatile tool that can cut weeds and trim the lawn with equal dexterity. We would like to have seen a more generous warranty, but overall this trimmer is reasonably priced and has good customer service options available.
Need a better alternative?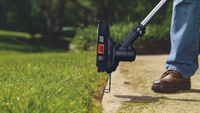 (opens in new tab)
Best Electric Weed Eaters 2019
Top Ten Reviews has reviewed the Best Electric Weed Eaters 2019 so that we're able to offer you the authoritative buying advice you expect.