If you're shopping the Prime Day sales, how would you like a free $25 Amazon gift card? Well, you're in for a real bonus if you buy a set of specs from Glasses USA at the moment. To celebrate Prime Day, the firm has announced that it will be handing out a free $25 Amazon Gift Card with every purchase over $100. So, not only will you get your hands on some stylish and high-quality eyewear, you'll also be able to treat yourself – or a loved one – to some other goodies from Amazon's massive range of products. (Note that this offer does not apply to contact lens purchases, and is limited to one card per customer.)
If you're looking to get new frames from one of the best eyeglasses online retailers, and you want to save some money over Prime Day... it's a no-brainer.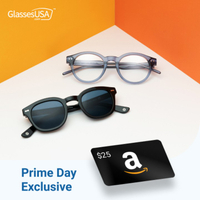 Get a free $25 Amazon Gift Card Today: Spend $100 at Glasses USA
To claim this amazing offer, you'll need to insert the code PRIME25 when you make a purchase from Glasses USA's online store. Your Amazon Gift Card will be emailed to you wi thin 24 hours of the transaction – but there's nothing stopping you browsing for things to spend it on before it arrives!
We've been impressed by some of the Amazon Prime Day US deals we've seen this year – none more so than this one from Glasses USA. If you wear specs, then you'll know how frustrating it can be traipsing from store to store looking for a pair that you like – and then, when you do find some, having to stump up a load of cash that you can ill afford.
Well, Glasses USA is aiming to make things easier for you. Its website features a fantastic selection of eyewear, with styles for just about every taste and purpose – meaning you can browse what's on offer without having to leave the comfort of your armchair. And to help you financially this Prime Day, the company will give you a $25 Amazon Gift Card when you spend $100 or more. You can find out more about the retailer by checking out our Glasses USA review.
It shouldn't take you long to find a pair that meets your requirements. The Glasses USA collection features all the major brands, including Ray-Ban, Oakley, Michael Kors and Versace. And with prices ranging from $46 to $367, there's something for every budget.
This Prime Day deal does not include contact lens purchases (although Glasses USA is one of the best online contact lenses retailers), and is limited to one Amazon Gift Card per person. But it's nevertheless a very eye-catching offer.
Don't have an Amazon Prime subscription? Get a free 30-day Prime trial now and take advantage of these brilliant deals before they end.