The Nexgrill is a generic model that lands dead center in our evaluation of the best gas grills. There's nothing particularly wrong with it. In fact, it has some of the best features of all the models we tested. But there's nothing that makes it stand out or makes it a better choice than any other grill on the market. Nevertheless, it's a decent choice that provides a lot of utility for the price tag.
It took two members of our lab crew a couple of hours to assemble this grill. The instructions were clear enough, and they didn't run into any problems like missing screws or dented components. However, when it was all put together, it didn't seem as stable or sturdy as our top choice, or even the best value grill.
This grill has five stainless steel burners, the most of all the gas grills we reviewed, that distribute heat pretty evenly across its porcelain cast-iron grill grates. To check for heat consistency, we measured the temperature of the cooking area at seven, 14 and 21 minutes after ignition. The grill was simply average for heat consistency, which is acceptable, but falls short of the best results we saw.
The main burners produce about 55,000 Btu of heat when set to high – the most among all the grills in our evaluation. And the side burner produces 12,000 Btu when in use. These are good numbers, but raw power isn't the end-all-be-all when cooking food. However, the side burner is a great addition. The ability to boil corn or cook beans to go with your burgers is a huge boon to any griller.
When we measured how many frozen burger patties can fit on the grill, it fit 12 before becoming overcrowded. Cooking 12 burgers at once is plenty to satisfy the needs of even large barbecues.
During our testing, we noted problems with the sticky nature of the grill grates. Bits of meat from burger patties, chicken and steak were all left sticking to the grill. This isn't uncommon among any grill, but it seemed much more pronounced on this one. We also noticed that this one had a higher frequency of flareups when compared to the rest of the grills we were testing. None of these are deal breakers, of course, but they are something to be aware of.
One last thing to note is the warranty. The burners are protected for five years, while all other components are only covered one year. This isn't uncommon, but from our experience, the longer the warranty period, the longer you can expect the grill to last. By contrast, our best overall grill has a 10-year warranty for the entire unit.
While it certainly isn't the best gas grill, the Nexgrill 5-Burner Propane Gas Grill won't provoke any buyer's remorse. It has ample grilling space, plenty of power, decent heat consistency and a useful side burner. To put it plainly – it's basic but delivers good results.
Need a better alternative?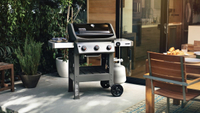 (opens in new tab)
Top Ten Reviews has reviewed the Best Compact Printers 2019 so that we're able to offer you the authoritative buying advice you expect.