Flowers are a great gift for any occasion, and Thanksgiving is no exception. Whether you're looking to cheer someone who you can't meet in person, or you're looking to brighten up your own home, flowers are a great way of doing it. And this ProFlowers deal saves you 15% across the site's range of flowers and gifts, so you can send a bouquet for a little less.
ProFlowers has a bunch of great arrangements right now, and they're all themed appropriately for the season. Getting a Thanksgiving bouquet will get you loads of yellows, oranges, and greens - perfect for any family gathering or home decoration. Saving 15% will go a long way to offsetting the costs of tax and delivery, so you're getting it all sent direct to your chosen address for far less.
What makes ProFlowers one of the best flower delivery online providers is that they use local florist to fulfil orders, so your flowers will arrive fresh and will support a smaller local business. So you'll feel good about your delivery. We also found ProFlowers to be one of the best value services too, so you're getting a good deal even without the discount.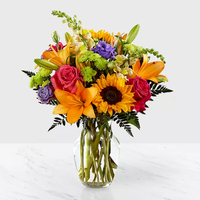 All Flowers and gifts at ProFlowers: get 15%-off site-wide
If you can't make it in person to your family Thanksgiving, or you just want to brighten up someone's home - even if it's your own - then ProFlowers has 15% off flowers site-wide when you click through from Top Ten Reviews.
The 15% saving applies to gifts too, so you can choose from a bunch of plants, and even add extras like chocolates and balloons. These are more for celebrations, rather than events like Thanksgiving, so if you have an upcoming birthday celebration this could be a great option.
Of course, flowers aren't for everyone, so if you want to give someone a home delivered gift, we also have a guide to the best gift baskets available in 2020. They're especially popular around the Holidays, so you should shop now if you want something in time for Christmas.
Need more money-saving deals and discounts? We've rounded up the best Black Friday USA deals for 2020 - which includes early price-cuts from around the web.