Therabody's Theragun percussive massagers are a must-have if you regularly workout or need to ease muscle tension or soreness after working at a desk all day. Today there are excellent deals on two popular Theragun bundles at Dick's Sporting Goods, including a $99 saving on the Theragun Elite and Wave Roller Bundle, on sale for $449. The Elite is an excellent choice for targeted deep muscle treatment, offering plenty of control with its ergonomic grip. The 30cm wide foam Wave Roller, meanwhile, applies pressure across wider areas such as your back.
Looking for a more relaxing massage? Dick's Sporting Goods has also knocked $30 off the Theragun Mini Percussive Device bundle, selling it for $228 instead of $258. The bundle includes one of the best handheld massagers for home use, the Mini, along with a Theragun Duo Adapter Set and a Supersoft massage head. Theragun products are designed to give you a tension- and stress-relieving massage, and these time-limited savings can net you one for much less.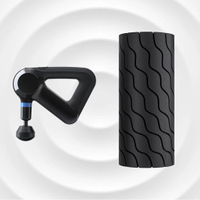 Therabody Theragun Elite bundle | Was $548 | Now $449
The quiet yet powerful Theragun Elite gets deep into your muscles for targeted and blissful relief, ideal for sore necks and shoulders while working from home. The 30cm wide foam Wave Roller is ideal for pre-workout prep with five settings that will see you good to go.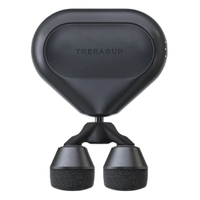 Therabody Theragun Mini bundle | Was $258 | Now $228
This great deal features the compact three-speed Theragun Mini massager, a quiet device ideal for targeting knots and persistent areas of tension in the body. This bundle comes with the Duo adapter to double up on massage power, as well as a Supersoft adapter for targeting more sensitive areas, such as the elbow.
Therabody's range of percussive devices are on hand to help no matter whether your lifestyle is active, restful or somewhere in between. The company's excellent Theragun Elite is the perfect choice for providing targeted relief deep into the muscle with a customizable speed choice that puts you fully in control. Ultra-quiet and with 120 minutes of battery life, it's also perfect to take down the gym or for when you're on the go.
Theragun's Wave Roller is the perfect companion to the Theragun Elite, and is a comfortable way to get a powerful massage at home with the 30cm foam roller getting deep into your muscles with five intensity settings, three-hour battery life and a smooth quiet motion, ideal to aid muscle recovery or warm up pre-workout.
If you are looking for an ultra-portable device then look no further than the Theragun Mini – ideal for the car, the gym or to take to the office. This powerful little device has three speed settings and up to 150 minutes of battery life. It also has an ergonomic grip, which makes it easy to control around areas such as the shoulderblades.
Theragun's Mini Percussive Device bundle also includes a Duo Adapter that easily attaches to the Theragun Mini and doubles the area that is worked on. It is also useful if you wanted to use two different types of attachment at the same time, such as Theragun's 'Thumb', 'Ball', or 'Cone' adapters designed to give you a more tailored massage. Also included in the bundle is a Supersoft adapter ideal for sensitive or more painful areas – simply attach it to your Theragun Mini and you'll be good to go.
Looking for more health and fitness content? We'd also recommend our guides to the best elliptical machines for full body workouts at home, as well as the best home gyms for weight training.