From workouts to recipes, TikTok hacks are the gift that keeps on giving, and the latest TikTok hack we're loving is a brilliant sleep solution from Dr. Jess Andrade, who explains that wearing socks to bed can actually help you to fall asleep faster. According to Dr. Jess, having toasty feet helps open up your blood vessels, which in turn will lower your body temperature. "The body being cool tells the brain it's time for bed," she explains, "so actually, people who wear socks to bed tend to fall asleep faster."
The TikTok video has had nearly 25 million views and three million likes since it was posted last month, so that's a fair amount of reaching for a snazzy pair of bed socks. But, and as part of our Sleep Awareness Week celebration, for the crafty types wondering how to make your own bed socks, we have you covered with our top tips.
If you've already hunted down the best mattress online, trying this latest trick is a good way to boost your chances of drifting off that little bit easier. Dr. Jess' sleep hack is backed up by a 2007 study on sleep temperature and insomnia, which highlighted the link between "sensitivity of sleep propensity to foot warming changes." Wearing bed socks worked well for the adults in the study, but especially well for the seniors.
So aside from ensuring you have the best pillows for sleeping in your favorite position, another way of relaxing yourself, ready for sleep, is to take up hobbies such as knitting and sewing. Not only does getting crafty help you wind down in the evening, it can help you cut back on screen time before bed if endless scrolling is something you struggle with. Few things in life rival the cosiness of handmade socks, so why not double down on this sleeping hack by learning how to make your own bed socks? Here's how to get started...
How to make your own bed socks
There are actually several ways to make bed socks. Some require a little help from the best sewing machines, whereas others simply need a pair of knitting needles and a ball of yarn. Whether you're after a quick fix or you want to make a lovingly handcrafted gift for a friend or loved one who struggles to sleep, there are also countless ways to customize your snuggly bed socks.
Michael's sells everything you'll need to get started, including sock yarn, sock looms and even sock knitting books with a range of patterns and design options. In our guide on how to make your own bed socks, we'll cover two different techniques for differing levels of ability. The first is far easier because it doesn't require you to do any fiddly ankle work, whereas the other is for more advanced sewists and knitters.
Easy ways to knit your own bed socks
Many socks come with space for your ankle, which can feel more roomy but also be far more difficult to make. If you want to knit socks as a beginner, you can simply cast on the right amount of stitches for your yarn thickness and the size of your feet, and then work in the round for a few rows of a ribbed stitch. This will ensure the bed socks don't slip off as you sleep. You can then stitch the toe area together in a flat and long stitch (be sure to do this inside out to make sure the stitch is invisible) and then wear as usual.
The best yarn for this would be fluffy and a mid-to-chunky. Use either US 8 or US 10mm circular needles, which will enable you to work through your new bed socks in record time.
Stepping it up a level: Knitting socks on double pointed needles
Up for more of a challenge? Then break out the fine double pointed knitting needles and a finer yarn to get started. There are loads of fantastic YouTube tutorials on how to knit bed socks on double pointed needles.
Using double pointed needles will enable you to set aside one quarter of the sock to work on a heel turn, which means you'll get that classic sock shape and a finer, warmer consistency.
Knitting socks will always feel a little fiddly. Following sock tutorials such as the above from Crazy Sock Lady on YouTube will allow you to thoroughly visualize the process before you get started.
How to make your bed socks even warmer
Want to make your bed socks even warmer? Add some lining. To do this you can find a fleece material online or in your local fabric store and sew it to the inside of your sock, with the soft and fluffy side facing your foot to keep it toasty and warm.
You can hand stitch this material to the inside of your sock or use a sewing machine, but try to attach it at both the toe and the top of the sock to keep the fabric secure. Make sure that the fleece fits more tightly than the sock itself, or it will warp your bed sock out of shape.
Too much effort? Try embroidery
If you want to make a gift for a friend or loved one who struggles to sleep, try buying bed socks and embroidering them to add a personal touch.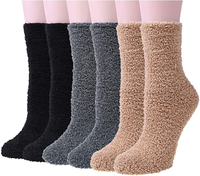 YSense Cozy Slipper Socks: $12.99 at Amazon
We love these fuzzy slipper socks from Amazon, which come in a multipack for gifting to a range of friends and family, and with dozens of colors to choose from.
There's no limit to what you can embroider on a pair of bed socks, so let your imagination run wild. One of the easiest and most effective designs out there is flowers, but you could do something relating to a shared pastime, or even take inspiration from an emoji.
Another option is to run the hem of the sock through a sewing machine. Many sewing machines come with preset patterns and even fonts, so you can personalize bed socks for each day of the week or with a person's initials for a bespoke gift.
For more sleep content, read our expert-led feature on why is sleep important for humans.