The Husqvarna 350BT 2-Cycle Gas Backpack Blower has the power and the functionality to easily remove leaves, debris and clippings from your yard, pathway or driveway. It doesn't look like your typical leaf blower. In fact: it looks quite alien-like with it's thick padded harness and rigid nozzle. It is just the ticket to tackling the more demanding lawn care tasks, and when you're wearing it you are most definitely going to be looking (and feeling) pretty cool.
Getting in on the Amazon Prime Day deals action, this Husqvarna Backpack Leaf Blower is carrying a decent discount of 20% - that's $76.79 - which is prime time for fall. With this being the optimum time to tidy up the backyard from fallen leaves, pines, moss and heavier debris, the leaf blower deal couldn't have come at a better time.
The best leaf blowers are one of the most essential yard maintenance tools for the season, so keep scrolling for your chance to get the Husqvarna 350BT 2-Cycle Gas Backpack Blower.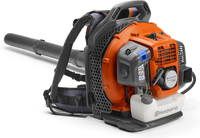 Husqvarna 350BT 2-Cycle Gas Backpack Blower: was $349, now $279.99 at Amazon
Packed with 21 newtons of blow force with 692 CFM, this Husqvarna leaf blower excels at regular yard maintenance and breezes through more demanding tasks, such as cleaning up heavy, wet leaves and debris. We're also liking that it has $20 off for Prime Day, meaning that you can keep your wallet and backyard in check at the same time.
Price check: Lowe's $379
Alternative pick: Dewalt 20V Max Blower
Husqvarna Backpack Leaf Blower: Key features
The Husqvarna 350BT 2-Cycle Gas Backpack Blower is different to other leaf blowers I've seen, in the sense that it is a backpack. It features an ergonomic harness system so you can adjust it for comfort, and a handle for easy transportation. The design also allows for an additional adjustable offset handle that makes the blow forces easier to control by preventing the arm from being pulled downwards.
It's easy to start-up and operate with the air purge system removing air from the carburetor and fuel system for trouble-free starting, and LowVib technology significantly reduces vibrations so you can work more comfortably. The leaf blower then promises a powerful cleaning performance with a 2-cycle, 50.2-cc, 2.1-HP X-Torq engine that has an impressive blowing force (180 MPH, 692 CFM, 21 N), reducing emissions up to 60%, and increasing fuel efficiency up to 20%.
This leaf blower also features cruise control and tube-mounted throttle controls for easy operation, which is ideal for clearing leaves, grass clippings or hedge trimmings this fall.
Leaf blower deals
The Husqvarna 350BT 2-Cycle Gas Backpack Blower is down to its lowest price on Amazon, and it's a current best seller.
If you'd prefer to tone down the power then the Husqvarna 150BT Backpack Leaf Blower could be a good choice which is discounted from $349.99, to $279.99 on Amazon. You'll hang onto the look that you want to achieve (always important with this kind of gear), but it just won't be as powerful as the Husqvarna 350BT 2-Cycle Gas Backpack Blower so you won't be able to clear the heavier debris as easily.
Battery powered alternatives such as the Dewalt 20V Max Blower can also be consideration, which generally land a little more affordable and lighter in weight.
If you'd prefer to wait a little longer then the best Black Friday deals aren't too far away, so I'd advise booking marking our page to revisit closer to the time for more leaf blower deals.