Pimsleur Language Learning is designed around the system developed by linguistics scholar Dr Paul Pimsleur. He was a scholar of applied linguistics and a founding member of the American Council on the Teaching of Foreign Languages, so his name carries a lot of weight. This audio-focused teaching approach trains you to listen and speak languages fast by immersing you in conversation about everyday topics. This is a useful method for a lot of learners, but it can quickly become monotonous for people with short attention spans. It also lacks the same kind of visual aids that other programs benefit from. Overall, it's one of the best learn Spanish online apps, and one of the best learn French softwares too, but not at the top of either list.
Pimsleur review: Method
This is an all-audio course, and it's all about phonology, morphology, syntax and semantics. Save a few flashcards/interactive elements that have been added to the App, Pimsleur, basically, works by teaching sentence structures with graduated intervals that increase as you get into the course: the user learns a sentence or phrase and reviews it shortly after, but the time between the given sentence/phrase and the review increases, which helps lock the sentence/phrase into the user's memory.
This method of learning sentence structures is effective (in layman's terms it's fair to think of Pimsleur as a form of rote learning) but the lack of visual clues can be a hindrance, it's not always possible to work out what a sound of a word 'looks' like, so it sort of floats about the imagination without a specific meaning attached to it. Something like Rosetta Stone is more visual, and more effective for beginners and intermediates.
It is good for a basic grasp of Spanish or French, though. As with nearly all language courses, one alone isn't going to turn the user into a fluent, native speaker and the question and answer nature of Pimsleur (i.e. it's not free practice, you adhere to a rigid structure) will always have its limitations.
Each lesson focuses on a sample conversation. Once you hear the initial dialogue, the audio instructor walks you through each word, phrase and variation. Listening to the sample familiarizes you with casual dialogue and conversations you hear every day in your native language, but in Spanish, French or whatever you're learning here. This method teaches you to anticipate and actively recall correct responses in conversations. The software refreshes your memory of previous lessons in graduated intervals by including words and phrases you've already learned in future lessons.
When you buy the Unlimited version, you get access to resources like Speak Easy, which follows the audio lessons and helps you practice newly learned vocabulary and sentence structure in conversations. Other teaching resources include flashcards and quick matching games. The program includes access to audio-based chat rooms where you can practice with other students. Pimsleur also hosts live events where you can meet native speakers and explore Spanish culture and customs.
Pimsleur reinforces its audio lessons with reading lessons. As you progress, it tracks the lessons you complete. When you open the application each day, it knows where you left off, which makes it easy to stay on track.
Pimsleur review: Price and App
Amazon's Audible will give you access to a free 30-day trial of the audio-only course. Once you've decided if it works for you can either stick with the Audible version at around 20 bucks per book (there are six in French One, and (so far) three in French Two) or go for the Pimsleur App which costs $14.95 per month or $19.95 for the Premium. For that, you'll get 150, 30-minute daily exercises with added reading lessons, plus flashcards, games, conversation exercises and few extras to break up the audio. This allows you to work at your own pace but the longer it takes, the more it costs. If you're looking for something less expensive, Duolingo is a good place to start as it's free to sign up.
The Pimsleur mobile app is available for Android and iOS devices and allows you to download one lesson at a time or the entire course so you can learn without using Wi-Fi or cellular data. During our testing, we noticed the app ran better when we had fewer lessons downloaded.The Pimsleur method is critically acclaimed, but you have to take the time to practice the lessons consistently to get the most from it. The learning content is audio-heavy, so if you prefer game-style learning or supplementary visual aids, you may have trouble staying motivated. If you are studying towards a specific exam, you'd do better to use one of the best online tutoring services, where you can have live interactions with tutors and get immediate feedback.
Should you try Pimsleur Language Learning?
There is little doubt that the Pimsleur method revolutionised the way language is taught, and it does work, there are years and years irrefutable evidence that attests to its effectiveness. But it's an old way of learning, and while there is nothing wrong with that per se, there are more efficient ways of learning languages and most are definitely less expensive. And yes, we know the App has some pictures and suchlike, but these are more for market reasons, they don't really contribute anything new to the original, tried and tested, Pimsleur method of learning.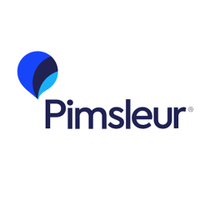 See all available Pimsleur courses
If you're someone who learns best through audio input, then this is the right course for you. Developed by a linguistics scholar, it has an academic grounding that will suit learners who like to have some theory mixed into their practical lessons.