If you're looking for deals on the best smartphones at the moment, you're well catered to, but there's no getting away from the cost of the cell phone plan itself… or is there? Mint Mobile is offering the iPhone SE for just $15 per month. Combine that with the excellent value of its $30 per month unlimited plan and you can get a brand new iPhone SE and unlimited data for just $45 per month. The same plan would cost you over $100 with most major cell plan providers.
Mint Mobile is smaller, and in its own words "smarter" wireless company which traditionally offers short term unlimited data plans that you pay up-front for. It does offer longer plans too though, and while you'd normally pay for the entire cost of the plan upfront, you can split the cost over 12 to 24 months by paying with Affirm, essentially changing it back into a traditional pay monthly phone plan, but at a fraction of the usual cost. You could also just pay the $1080 fee up front and then not have to worry about your phone bills for another two years, which is an exhilarating prospect.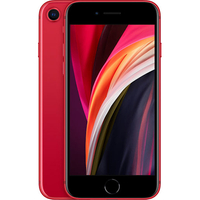 If Unlimited Data seems a bit excessive to you, you can save even more money by snagging the iPhone SE with one of the limited plans that Mint Mobile offers too. You could choose either:
3GB Data for $15 per month ($30 per month with iPhone SE)
8GB Data for $20 per month ($35 per month with iPhone SE)
12GB Data for $25 per month ($40 per month with iPhone SE)
Unlimited Data for $30 per month ($45 per month with iPhone SE)
The iPhone SE launched earlier this year with an almost impossibly low price tag of $399. We say impossibly low price tag, because as we noted in our iPhone SE review, it makes very few compromises when compared to Apple's flagship phones. It's running on the same A13 chip that powered the iPhone 11. It also looks just as stylish as you'd expect an Apple smartphone to as well. In truth it does make a few sacrifices in the name of keeping costs down though, so the camera and screen aren't quite as impressive as the flagship phones, but it's also half the cost, so we can hardly complain.
Mint Mobile made quite the name for itself last year when it was revealed that Hollywood actor Ryan Reynolds had become one of the owners of the company. His frankly unreasonably handsome face is now at the forefront of Mint's marketing efforts.
But even ignoring that ridiculously handsome man for a second (it's tough, but stay with us), we really do think Mint Mobile offers exceptional value when compared with the rest of the best cell phone providers. It manages this by being an online only company that keeps overhead costs to a minimum, and then passes that saving on to customers.
If you want to see what else is out there when it comes to smartphone and cell plan deals, head over to our best Black Friday cell phone plan deals page for our full roundup.
More great smartphone deals
Need more money-saving deals and discounts? We've rounded up the best Black Friday USA deals for 2020 - which includes early price-cuts from around the web. We also have a guide to the best Amazon Holiday Dash deals, for anyone looking to get their shopping done early this year.