Image 1 of 14
Image 2 of 14
Image 3 of 14
Image 4 of 14
Image 5 of 14
Image 6 of 14
Image 7 of 14
Image 8 of 14
Image 9 of 14
Image 10 of 14
Image 11 of 14
Image 12 of 14
Image 13 of 14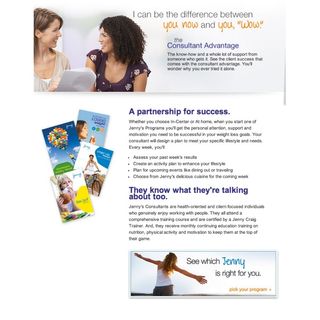 Image 14 of 14
Editor's Note: This service is still available but no longer fits the criteria of this review. You can still read our original review below, but Top Ten Reviews is no longer updating this product's information.
When it comes to the best online diet services, Jenny Craig is unquestionably one of the most popular and well-known commercial diet programs. For more than 30 years, Jenny Craig has helped people lose weight through its proprietary program that combines prepackaged meals with one-on-one support. The core philosophy of Jenny Craig is moderation; it teaches you portion control and how to implement a balanced approach to eating. Jenny Craig is remarkably easy to follow, provides all of the resources and tools you need to successfully lose weight and keep it off, including most of your food. However, the program's heavy reliance on its prepared meals (at least initially) makes it a bit of a budget-buster compared to other online diet services.
It may not be the cheapest of diet plans, but if convenience and losing weight quickly are important to you, Jenny Craig is an ideal solution. The program excels when it comes to the two pillars of successful weight loss: portion control and community support. To get the most out of the program (and to ensure that your diet dollars don't go to waste), take full advantage of the service's unrivaled personal consultants. These individuals will play a vital role in your weight-loss success and in transitioning from the program to new, healthier lifestyle.