It's that time of the year where every retailer is keen to get in on the sales action. While many eyes are on the Amazon Prime Day USA deals 2021 next week, going direct to the source could pay off even better when you check out Samsung's wealth of great deals available right now. In particular, the manufacturer has some fantastic offers on its latest smartphones including the Samsung Galaxy S21 Ultra, Samsung S21 range, and the Samsung Galaxy S20 FE 5G too. Let's take a look at just how heavily discounted some of the best smartphones out there right now are.
Possibly the best value deal isn't for those on a budget but it'll certainly set you up nicely. For only $850 via an eligible trade-in, you can buy an unlocked Samsung Galaxy S21 Ultra 5G along with a Samsung Galaxy Watch 3, Samsung Galaxy Buds Pro, a S-View Cover with S-Pen, and a wireless charger too just to make the deal that teensy bit sweeter. Available in either Black or Silver, it's a saving of over $1,150 so you know you're onto a good thing here. The Samsung Galaxy S21 Ultra 5G is a fantastic smartphone for those looking for the highest end Galaxy S21 experience they can get, plus you get the benefit of one of the best smartwatches out there along with some rather convenient wireless earbuds too.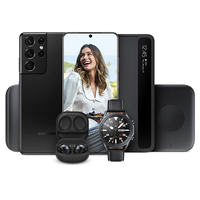 Samsung Galaxy Ultra 5G Unlocked Bundle: Was $2009.96 now $849.99
Save $1150 on this enormous Samsung tech bundle that comes with the Samsung Galaxy S21 Ultra, Galaxy Watch 3, Galaxy Buds Pro, S-View Cover with S-pen, and wireless charger.
Alternatively, if you want to go a little cheaper, there's the Galaxy Premium Value Bundle. From $325 and an eligible trade-in, you can snap up the Samsung Galaxy S20 FE 5G or Samsung Galaxy S21 5G with a Samsung Galaxy Watch Active 2 and Samsung Buds Pro. The phone is great (we certainly liked it in our Samsung Galaxy S21 review), the smartwatch is nearly as competent as the pricier Samsung Galaxy Watch 3, and the wireless earbuds are always a good bet.
Wondering about that all-important term 'eligible trade-in'? Eligible phones to trade in include a wide variety of options from Samsung (of course), along with pretty much all Apple iPhones going back to the iPhone 7, as well as plenty of Google, LG and Motorola devices. Of course, how much you save on the bundle deals depends on how new your phone is. The more recent model you have to trade in, the bigger the savings, but there's something for everyone here.
These deals are merely scratching the surface of what Samsung has to offer right now with offers lasting until June 20. Check out the full site of deals for more information on how else you can save big via the phone giant. It's a very good time to upgrade your technology for less.