The new OnePlus 8T might be out now, but savvy smartphone buyers will know that the release of a new phone is the perfect time to buy the previous model, as they're usually heavily discounted - and oh would you look at that, the OnePlus 8 is heavily discounted at Verizon. What were the odds?
Right now you can get the OnePlus 8 5G UV from Verizon Wireless for just $10 per month for 24 months, which comes out to a $550 discount by the end of the contract. There is a catch though, you'll need to trade in a suitable handset (older handsets will net you a smaller discount).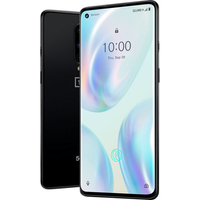 Save up to $550 on the OnePlus 8 5G UV with Verizon Wireless: Was $799 now $250
Trade in your old phone and get up to $550 off the cost of a OnePlus 8 5G UV. The total comes off your monthly payments, bringing them down to just over $10 per month. The OnePlus 8 has a stunning 90Hz screen, excellent camera, and a battery that just won't quit.
Where to start with the OnePlus 8? It's packing serious hardware in line with other top smartphones like the Samsung Galaxy S20, it has a great triple lens camera array that will snap beautiful photos, and it charges in next to no time thanks to Warp Charge - zero to 50% charge in just 22 minutes. Oh, and it looks gorgeous too, with a gorgeous curved OLED screen and aluminum back - this feels like a premium product.
So, as you can see the OnePlus 8 is one of the best smartphones from this year, bringing flagship beating specs at a price well below what the competition is charging. And now you can get it even cheaper with Verizon Wireless, one of the best cell phone providers in the country. Verizon has the most expansive network of any of the providers we tested, with a great range of plans too. If you're not sure how Verizon's cell signal is in your area, check out our cell phone coverage maps article to find out how you can check.
If you want more deals, the sales have already started on several other sites. We've rounded up the best Amazon Holiday Dash deals right now, and you'll also find the best Black Friday USA deals starting soon too.