Start ASL provides American Sign Language courses to anyone with hearing loss or those who are looking to engage with the deaf community. The courses have been designed to progress your signing ability from a beginner to advanced level, taking you through a series of lessons focusing on vocabulary and grammar before finishing with comprehensive narrative 'storytelling' sessions.
Users have the option to access all the course units online for free or subscribe to a paying membership, which gives you access to direct feedback and help from tutors. Group discounts and additional curriculum guides are available for teachers, and students also have the opportunity to access exclusive events. For the purpose of this review, we tested both the free option and the gold-tier membership.
When we tested the platform, we found that a slightly confusing layout hindered our progress. There are a lot of different elements incorporated into the course, such as downloadable materials, marked assignments, and long lists of video vocabulary. On the one hand, this does mean you're getting a lot of bang for your buck, but on the other, it can feel a little overwhelming.
If you're searching for courses more generally, we do have a list of the best online learning platforms. Here, you'll find plenty of websites with their own ASL courses, alongside self-paced classes covering other subjects.
Start ASL review: Teaching method
Each course level has a workbook to follow, an introduction, and up to 14 additional units with a mix of vocabulary, conversational signing, and fun retention activities. Some units will be familiar to anyone who has learned a foreign language, with topics such as greeting people, school, and hobbies, while other units will focus on American Sign Language grammar to help you achieve accurate signs. Units are usually presented through a mix of videos and text, with the videos showing the signed words and the text giving additional context.
Although some of the language is a little formal and needs explaining, overall one of the strengths of this site is its explanation of grammar topics. Things like 'temporal aspect' and 'classifiers' may mean little to a beginner, but after reading the on-site content it's easy to see how both play their part in signing conversations.
One of the slightly confusing aspects of the teaching approach here is that there are some overlaps and repetition between the 'worksheets' and the on-site explanations. You can also be led down a confusing rabbit hole, as the on-site lessons might point you towards a certain chapter in the workbook, which then points you onto other external online resources. This means that you can sometimes end up being far removed from the original lessons that you were trying to work through.
Start ASL review: Course quality
Start ASL uses a group of 9 regular signers so you can quickly get used to them and their style. The individual vocabulary videos were quite clear with just the right level of zoom to see the hand shapes and facial expressions of the signers, but the signed 'conversations' between two people were harder to follow. These were zoomed out more, with the signers facing each other, making it harder for a viewer to follow the conversation.
One big benefit this platform has over competitor websites like ASLdeafined was the videos' speed settings, which allow you to set the playback speed at exactly your preferred pace. This was certainly very useful when we were watching the alphabet finger spelling video, as it allowed us to catch each individual letter. That said, we did actually prefer ASLdeafined's approach here of separating each letter into its own video, as this means you can easily browse for the exact one you need.
Start ASL review: Cost
Start ASL offers several different membership levels, which we've outlined below.
The free option – Complete text and video content for ASL 1, 2, and 3 units with accompanying workbook and access to common areas of the website.
Offline – For $69.00 you will have access to an offline course along with e-book versions of their 'Don't Just Sign - Communicate!' guides, and an ASL and deaf community guidebook. You will also receive videos of all the vocab and conversation lessons to watch on your chosen device.
Silver level - $24.95 a month, $149 for six months, or $199 for the whole year. This premium option includes the complete course units, along with grading and progress tracking, virtual practice events, and written feedback from instructors.
Gold level - $49.95 a month, $299 for six months, or $499 a year. In addition to everything included in the free and silver options you'll receive video feedback on your signing assignments, and a whole host of bonus flashcards, worksheets, and study resources.
There are also options and potential savings for teachers looking to enrol multiple students on to these courses. Even so, this is certainly not the cheapest option available. For comparison, full access to the Sign It platform costs $159.99, while ASLdeafined courses usually cost $36 for a full year.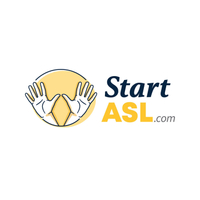 Check out all courses on Start ASL
There are expert grammar lessons and huge amounts of content available with a subscription to this platform. You can even try out the free-tier option before becoming a member, to test out the courses before committing to payment.
Start ASL review: Ease of use
This is where the course starts to falter. Although there's a wealth of content available on the platform, it's not clearly laid out. There are endless workbooks to download, a confusing home page listing all available units, another confusing homepage for each individual unit, long lists of vocabulary videos and a section of graded 'tests' to complete. These sections don't lead seamlessly into one another, so you often end up with multiple tabs open as you try to navigate the course. It's just too much in too many different places, which makes it hard to concentrate.
There's quite a significant difference between the free lessons and the paid-for package when it comes to navigation, although both offerings could do with some improvement. The free-tier lessons feature a lot of pop-ups, advertising paying classes, which can be distracting when you're trying to learn. The gold membership offers a cleaner look and less overwhelming course homepage. Signing videos are also quicker to access as pop-ups here, rather than links, and hints such as breaking signs up in to syllables helped when reading other content. There was also an insightful 'Intro' video in the paid-for package, which made it marginally easier to navigate the course.
Start ASL review: Is it worth it?
There's a lot of content available here, whether you're on a free-tier membership or paying for a subscription, but it is hard to navigate. Start ASL offers a thorough approach, incorporating lots of grammar explanations, but you should expect to set aside some time to learning how to navigate the site as well.
There are useful articles to read below each exercise and the opportunity to receive virtual tutoring if needed. Mixing the free self-paced learning with zoom practice sessions, tutoring, and deaf community events could help you improve your grasp of American Sign Language, if you're determined to master it.
In general, though, we'd only recommend this course for someone who's already exhausted the free lessons on a platform like Gallaudet, which is a lot easier to navigate. Although there's plenty of content to work through here, it's a bit of a chore to figure out how the pieces fit together.