Strategic Capital has funded more than $1.5 billion in transactions and has been in operation since 1994. The company manages structured settlement annuities, lottery winnings, and payments without charging additional fees or service charges, which puts a lot more bang into your buck when you work with them.
The company prides itself on not using advertising to gain customers, rather using word of mouth and uses the savings from the marketing budget to offer better deals. Strategic Capital also continually mentions that selling a settlement is a big decision and recommends that users get a second opinion before making a decision.
The site is very much focused on providing information and ensuring that customers are as informed as possible. They also consistently mention that you may not have to sell them, offering advice that you can use to go another route if you're uncomfortable with selling your settlements. This level of honesty is why Strategic is consistently among our best structured settlement annuity companies.
The Strategic Capital website includes some nifty features that help you to make your decision and understand more about what structured settlements actually are. There's a quiz that tests your understanding before you embark on any dotted line signing, there's a structured settlement roundtable offering advice from leading legal experts, and there are downloadable guide books that offer you step-by-step advice. There's no calculator on the site like with J.G Wentworth but there are different payment options and a variety of structured settlement, annuity and lottery payout solutions.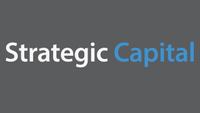 Strategic Capital review: How does the process work?
Key facts
Application process: Visible, plenty of information, managed by calls and emails
Costs: No hidden fees or charges
Purchase options: structured settlements, various annuities such as casino wins, lottery
Calculators, service and support: No live online chat, contact number, fast digital quotation process, no online calculator
There are no fees or hidden extra charges
The site has no search button
The lack of a search button on almost every structured settlement website is a baffling issue, especially considering the sheer volume of information that each site contains and how important it is that you read through it all before you commit. Strategic Capital is yet another without the ability to search directly for data, but the well laid out, highly navigable website is a point in its favor. From the outset, you are able to work out how the process works and what steps you need to take to get from your settlement to your funds. The DRB Capital site is flashier, but harder to navigate and actually find what you want.
The landing page immediately directs you to either starting the process or receiving guidance from their experts. This is a stand-out feature of Strategic Capital as they clearly state that no documents should be signed until you've spoken to one of their experts. This is a really good proposition that does engender trust. If you want to dive straight in, then you will need to fill in your details on the provided form and the team will get in contact with pricing and options. The company has also placed a clear infographic on the site that explains every step of the process so you know what to expect from the moment you get a quote to the moment you're paid.
Strategic Capital review: Information and support
No online chat
Lots of information
Strategic Capital has put a lot of effort into making sure that you know exactly what they do, how the process works and the risks that you face. They also spend a lot of time warning you about making any sudden decisions and giving you access to experts who can help you figure things out and align your sales with your lifestyle. It's a strong mix of solid reliability, long standing company presence and some really glowing customer reviews.
Strategic Capital: Customer reviews
No rating on Trustpilot
No ratings on Consumer Affairs
It's hard to track down reviews for Strategic Captial, with no presence on Trustpilot, while there is no BBB or NASP presence and no ratings on Consumer Affairs. Compare this to someone like Fairfield Funding, which has a perfect 5-star rating on Consumer Affairs, and it becomes clear that a company who relies on word-of-mouth, rather than marketing, really should have a customer review presence.
Should you choose Strategic Capital?
Strategic Capital has been in business for a long time and it has put a lot of effort into making customers feel safe and protected. There are books, online guides, expert advice, and even a quiz – everything focused on ensuring that customers make an informed decision. The company does position itself as a trusted partner, but finding customer reviews is hard. There is no live chat, but you can call the number to speak with an advisor at any time, or you can use email if talking to other humans isn't for you. Overall, Strategic Capital brings a solid presence to the structured settlement annuity table and is worth considering as a potential partner.