Anyone who has used a robot vacuum cleaner knows how much of a significant impact it can have on their home life. These devices clean your floors regularly and save an impressive amount of time and energy. However, they generally come at a higher cost.
With Prime Day coming up in October, we're nearing one of the best times to grab one. We're about to see massive savings on even some of the best robot vacuums.
The Amazon Prime Day deals are right around the corner, so now's the perfect time to look into which robot vacuum you want to see on offer, whether buying for the first time or looking for an upgrade.
Amazon's next Prime Day event, called Prime Big Deals Day, will be coming to us in October. We'll update this page with all the news, details, and offers as soon as they arrive. In the meantime, you can research all the best robot vacuums out there - and, of course, make sure you're signed up to Amazon Prime!
Amazon Prime Day robot vacuum deals
Even though Amazon Prime Day is still a few weeks away, there are loads of robot vacuums already on offer on Amazon. We've found all the best robot vacuum deals if you need that home upgrade before the big event.
The best Amazon Prime Day robot vacuum deals 2023
The best early Amazon Prime Day robot vacuum deals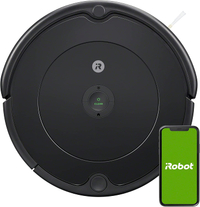 iRobot Roomba 692 Robot Vacuum | was $299.99, now $189 (save 37%) at Amazon
The Roomba 692 is equipped with iRobot's 3-stage cleaning system, ensuring a thorough clean. You can easily schedule cleaning through the mobile app, or by giving voice commands through Google Assistant or Alexa. One of the best features of this vacuum is its ability to clean under furniture without the need to reorganize the surrounding area. Amazon users love this product, giving it an impressive 4.4 out of 5 rating, and praising its user-friendliness.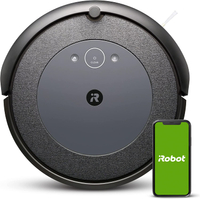 Roomba i4 EVO Robot Vacuum | was $399.99, now $285 (save 29%) at Amazon
The Roomba i4 EVO is a solid robot vacuum with excellent cleaning and mapping abilities, as evidenced by its 4.1 out of 5 rating on Amazon. However, it does come with minor drawbacks, such as a small dustbin and no option to cancel a job. Its dual multi-surface rubber brushes, which can clean up different types of floors and pick up pet hair, make up for these shortcomings. Besides, the fact that this robot vacuum, which usually retails for $400, is currently being offered at a 29% discount makes it an even more attractive choice.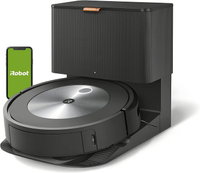 Roomba J6+ Robot Vacuum | was $799.99, now $526 (save 34%) at Amazon
The Roomba j6+ is a bit expensive, which is the main complaint among Amazon reviewers who gave it a 4.8 out of 5 rating. However, the product is worth the cost because it does an excellent job of cleaning. Unlike many robot vacuums, it can detect and avoid cords and pet waste, which are usually troublesome areas for automated cleaning solutions. Additionally, it can be scheduled to clean more than once daily, which is a rarity among robot vacuums.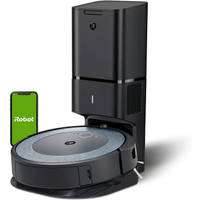 iRobot Roomba i4+ EVO Robot Vacuum was $599.99, now $416 at Amazon (save 31%)
The iRobot Roomba i4+ EVO is not an inexpensive option, as it generally comes at a price of $649.99. However, it is currently available at a 31% discount for Amazon Prime Day, with Amazon offering it for around $575. This programmable vacuum comes with smart mapping and a self-emptying base, making cleanup a more hands-free experience. Additionally, it supports both Alexa and Google Assistant, making it a convenient and modern choice for any household.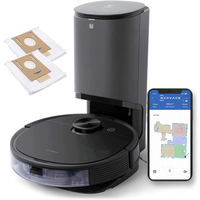 ECOVACS Deebot N8 Pro+ | was $699.99, now $489.90 (save 30%) at Amazon
The ECOVACS Deebot N8 Pro+ is a robot vacuum and mop combo that falls in the mid-range category. It has received a rating of 4.1 out of 5 on Amazon due to its exceptional cleaning performance, self-cleaning base, and precise obstacle avoidance system. Additionally, it has a decent runtime of 110 minutes.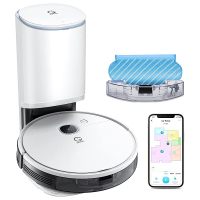 Yeedi Vac Station was $499.99, now $348.99 at Amazon
The Yeedi Vac Station is a robot vacuum and mop combo that usually costs $499.99. While it may not be the most affordable option, it is a high-performing device that has earned a 4 out of 5 rating from Amazon users. The Yeedi Vac Station is praised for its ability to vacuum and mop, run for up to 200 minutes, and self-clean. It also has advanced features such as smart mapping, carpet detection, and voice assistant support, which are typically found in more expensive models.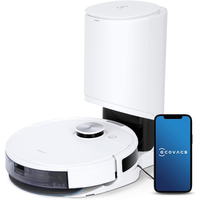 ECOVACS DEEBOT N10+ | was $649.99, now $449.99 (save 31%) at Amazon
This mid-range robot vacuum and mop combo from ECOVACS has a 4.3 out of 5 rating on Amazon and does a great job keeping your space clean. Although some users find that the mopping function lags behind the vacuuming function, it still performs well overall. In addition, it has multi-floor mapping capabilities and voice assistant support.
Amazon Prime Day robot vacuum deals 2023: what you need to know
When is Amazon Prime Day 2023?
Last year's second Prime Day, the Prime Early Access Sale, ran from October 11th to October 12th - so we can expect something similar for this year's event, which has been labeled 'Prime Big Deals Days.'
And as it's just ahead of the holiday season, now might be the perfect time to get ahead of your Christmas shopping and get your hands on some discounted goods.
What is Prime Day?
Amazon Prime Day is a mega two-day event full of epic deals on Amazon's own brands and other favorite brands, including Dyson, Ninja, and Shark.
It's exclusively for people with Prime membership, so you won't get access to the deals unless you're signed up.
How do I become an Amazon Prime member?
In order to get access to Prime Day deals, you'll need to be an Amazon Prime member. This costs $14.99 per month or £139 for the year.
However, if you haven't subscribed to become a member before, you can take advantage of the 30-day Amazon Prime free trial to buy the deals. You won't be eligible for this if you've used it in past Prime Day sales or if you've signed up for the subscription service before.
While on the free trial, you can get all the other membership benefits, including free next-day shipping, access to Prime Video, and so much more. You can cancel for free any time during the trial while you're in the 30-day window, so it's worth considering for sale events like this.
How does Prime Day work?
You'll see discounts across the site if you've signed up for Amazon Prime and logged into your account. In previous years, Amazon Prime discounts have been clearly marked across the site's 12 million+ products, so you know you're getting the deal because you're a Prime Member.
There are always deals throughout Prime Day, which you can access anytime. Then, there are daily Amazon Prime Day deals, which run for 24 hours or until stock is depleted. Finally, there are Lightning Deals, which appear every few minutes and run until a particular item's stock has been bought up. Sometimes, Lightning Deals run for hours or minutes. It depends on what the product is.
Once you've checked out with all your stuff, that expedited Prime delivery will see the products in your home within a few days. It used to be overnight in most areas, but since the explosion in at-home shopping during 2020, deliveries – while still free – can take a little longer.