If you want a good mattress deal, and want to support an American business, then Amerisleep is having a great sale to celebrate Sleep Awareness Week (opens in new tab). Right now you can save 30% on a range (opens in new tab) of the company's most popular mattresses, including the AS2 - which is great for back support - the AS3 (a good all-rounder), and the AS5. Amerisleep, as the name suggests, makes all its mattresses in the USA, and does so with eco-friendly materials, which means your mattress has a low environmental impact.
So, if we were buying a mattress in this Amerisleep sale, which would we choose? As ever, it depends on your needs, but we do like the AS3 for people with no special sleep requirements. It's reasonably priced, very supportive, and it's especially good for circulating air to keep you cool during sleep. If you sleep hot, or you're living in a hot area, the entire Amerisleep range is a good option. The AS3 drops from $1149 to $804 with this promotion (opens in new tab), so the saving is good.
If you want to spend a little less, the AS2 is down to $734 (opens in new tab) (from $1049) and is a good choice if you're looking for a little more back support, as it's relatively firm, but not hard on the spine. If Amerisleep isn't for you, many of the best mattress online (opens in new tab) retailers are having similar sales this week.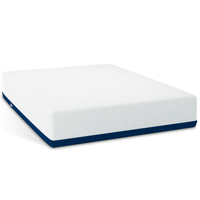 (opens in new tab)
Save 30% on Amerisleep mattresses right now (opens in new tab)
The Amerisleep sale includes 30% savings on all the company's most popular mattresses, including the AS2, AS3, and AS5. You have until Sunday, March 21 to take advantage of the savings.
Aside from their eco-credentials, and the fact you're supporting American business, what are the advantages of shopping at Amerisleep? According to existing customers the company makes some of the best cooling mattresses (opens in new tab) around, and they have an excellent set of customer service policies.
When you order, you get free shipping, which is a good start. You're given a 20-year guarantee on the mattress itself, which lasts you over double the expert recommended lifespan of a mattress. You can try it for up to 100 days, and return the product within this time - free of charge - if you don't like it. And while the website is a little pushy with chatbots wanting to 'help you' as you browse, the customer service is very attentive.
If sleep is important to you, and it damn well should be, then check out some of our other excellent Sleep Week features. We have a feature on five tips for better sleep (opens in new tab), and a look at the benefits of wearing bed socks (opens in new tab)!