Thanks to a great core set of features that's rounded off by a few extra niceties to make getting to grips with a DSLR that little bit easier, the Nikon D3500 is perfect for those looking for a fuss-free beginner DSLR.
With a host of Black Friday deals, right now is the perfect time to snap up a Nikon D3500 kit.
Until today, the best price we've seen for the Nikon D3500 was $396.95 at Adorama. However, that was sold with just the AF-P DX 18-55mm f/3.5-5.6G VR standard zoom lens. For a couple of dollars more, you can currently grab the D3500 with both the AF-P DX 18-55mm f/3.5-5.6G VR and AF-P DX 70-300mm f/4.5-6.3G ED lenses for just $399.99 over at Best Buy. Taking the camera's APS-C sensor into account, that gives you an effective focal range of 27-450mm between the two lenses – perfect if you have some vacations planned or looking for a really versatile starter kit.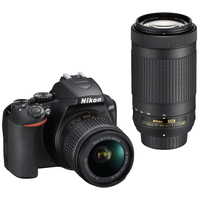 Nikon D3500 twin lens kit: $499.99 $399.99 at Best Buy
Save $100 - If you're looking for an affordable starter DSLR kit, this is a great buy. With the additional 70-300mm, this kit is perfect for a range of shooting scenarios, from landscapes to frame-filling action photography.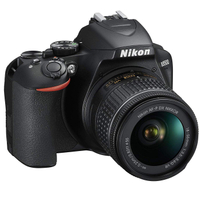 Nikon D3500 with 18-55mm VR lens: $449.99 $396.95 at Adorama
Save $50 - This is the best price we've seen in the US for the D3500 with a 18-55mm VR lens, but other retailers are not far behind. Best Buy has it for a couple of dollars more at $399.99.
Why you should buy a Nikon D3500
The D3500 is Nikon's latest in a long line of DSLRs aimed at beginners, and it builds on the successes of its previous models like the D3400 and D3300.
Despite its entry-level billing, the body is refreshingly packed with many direct controls, with a chunky grip that allows for a fine hold and plenty of space on the back for the thumb to rest comfortably.
You also get a built-in flash and a battery that lasts for a very impressive 1,550 frames per charge, although if you need a flip-out screen, or one that responds to touch, you might want to take a look at the Canon EOS Rebel SL2. That camera offers much the same as the D3500 but with these extras on board.
Image quality is very good thanks to the 24.2MP APS-C format sensor, while the AF system is very dependable. As well as this, you can shoot at up to five frames per second when the action unfolds and capture videos in Full HD quality (not 4K unfortunately), and even apply effects to your images without a computer. And once you're done for the day you can wirelessly send your images over to your smartphone or tablet through built-in Bluetooth.
You also get Nikon's legendary F-mount that accepts every kind of lens you might want to use, from ultra-wide-angle and fisheye types through to macro and super-telephoto options. The 18-55mm lens that's widely available with the camera is a great starting point, but double-check to see it has 'VR' written on it when buying as this will ensure you get the power of Nikon's effective Vibration Reduction system.
The Nikon D3500 is a great all-rounder for the beginner looking to learn.