Buying one of the best portable printers is a great way to get a machine that you can take anywhere without compromising on features or print quality. These compact, portable devices are more affordable than ever, and this guide will help you choose the best one for you.
As they increase in popularity, there are now a plethora of models out there - this freedom of choice can be overwhelming at first which is why we have put together this guide to show you only the best portable printers on the market. We have tested a range of printers with varying features and price points to find the ones that are truly worth purchasing, and to help you find the best one to suit your needs.
Maybe you want a printer that can easily be carried in your bag so that you can print directly from your smartphone while you are on the go, or maybe you want one that is specialized to print pictures to put on display in your bedroom. Either way, we've got you covered with a number of choices below for you to browse and compare.
If a portable printer isn't for you, check out our guide for the best all-in-one printers (opens in new tab) or the best photo printers (opens in new tab).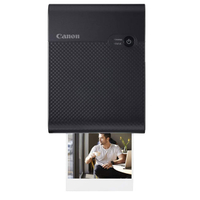 (opens in new tab)
Canon SELPHY Square QX10 | was $149, now $120 at Amazon (opens in new tab)
We've tested this photo printer (you can read our full review here (opens in new tab)) and found the printing quality very impressive. It does only create 2.7-inch square prints, but if you're looking for a way to instantly print photos from your phone, it's a great little machine.
Best portable printers in 2022
Why you can trust Top Ten Reviews Our expert reviewers spend hours testing and comparing products and services so you can choose the best for you. Find out more about how we test.
Whatever your needs, this list lines up the best portable printer models out there right now, each with their special features laid out for you to easily pick the perfect printing partner.
Best portable printers
The Canon PIXMA TR150 is an amazing printer, weighing only 4.5 pounds and folding down into a compact size that can be tucked away neatly in a drawer, or carried in a bag. Despite the small size, this printer can still hold up to 50 sheets of A4 paper, which it can print on a detailed 4500 x 1200 DPI.
This printer has a number of smart features available, including being Google Assistant and Amazon Alexa compatible. This means that you can print with voice commands alone. Alternatively, if voice commands aren't your thing (or you're working from a busy cafe and don't fancy holding a conversation with your printer), you can also print directly from your smartphone with 2.4GHz and 5GHz WiFi connectivity.
During our testing process, we found the photo print quality to be excellent. However, the main drawback if this printer is the price of Canon ink - it's expensive. Due to the price of the ink, using this as your main photo printer might not be sustainable. However, it's still a great option as a portable photo printer.
This printer will print 15 pages per minute in monochrome, and 10 pages per minute in color, making it a viable daily-use printer. It will even work using battery power with an optional power pack, making it a good option for people who want to take their printer with them wherever they work.
---
The HP OfficeJet All-in-One 250 is a mobile printer that's jam-packed with features. It's admittedly on the larger side of portable printers, but it makes up for this with the battery power it features. The battery will last for around 200 prints before needing a recharge, and you can load up to 50 sheets into the feeder at once.
Due to its wide range of connectivity options, including WiFi and Bluetooth, it will connect to almost any device that you need it to. Meanwhile, you can print at 4800 x 1200 DPI quality, copying and even scan with this printer. During our testing, we found that the color quality was excellent for printing. However, we did find that the scanning producing slightly faded reproductions when scanning lighter colors.
The printer comes with a full-year warranty, and their responsive customer support will be there to help if you run into any problems. The cost is higher than the others on the list, but with the print quality and the sheer number of features, it is easy to see why.
---
The HP Tango X packs a large number of features into an attractive, sleek design. With a size compact enough to be slipped into a bag or a drawer, this portable printer will produce high-resolution prints on A4 that are adequate for photo printing.
During our testing process, we found photos to have rich color and detail, and the text came out crisp and clear. This printer does have a copier and a scanner, but we found the text to be a little blurry when using Android, with some color distortions present as well.
This portable printer is WiFi connected and is operated via the HP Smart Print app for printouts from multiple devices, wherever you are. There's no screen on the printer itself, which is good for keeping it minimalist and portable, but you will need to use the app for more complex tasks. Ink isn't the cheapest, but there are subscription options available if you wish to keep costs to a minimum. If you want a portable printer for photos and texts, this is a great option, but for scanning and copying, it is not the best.
---
The Epson WF-110 is one of the smallest, most compact printers on the market, yet it still manages to produce professional-quality prints. This is one of the highest-resolution printers on the list with an amazing 5760 x 1440 DPI quality. When we tested this printer, it produced super detailed lettering and rich detail on colorful images. The 5GHz WiFi connection allows you to print from most devices, with full support for Google Assistant and Amazon Alexa included. We found the print speeds to be fairly average, which is fine as it more than makes up for the speed in print quality.
Unfortunately, you can't scan or copy with this printer, and only 20 sheets of paper can fit in the feeder at once, and we also found that this device used a lot more ink than the others. All of this is to be expected from a printer of this size, and the printer quality really shines through most of the cons. If you simply want exceptional quality prints from the most compact portable printer then this may be the option for you, but if you want to be able to scan and copy then you may need to go for one of the larger options on the list.
---
The Canon Selphy CP1300 is a photo-only printer, meaning it uses special photo paper. Due to the photo-only attribute, it's very compact and portable, but you can't use it to print A4. You can however use it to print photo-booth-like photo strips as well as card-sized prints. This printer is compatible with WiFi, memory cards, AirPrint and USB. It can also be connected to multiple smartphones at once so that anyone can print from it when needed.
The Canon Selphy CP1300 uses dye-sublimation thermal transfer to print, meaning you need to buy special types of ink and paper replacements. This makes the overall cost of running this printer quite high in the long run.
In our testing, we found connecting to be a little longer than the others on the list, but the overall end result was decent. It's worth noting that if you want this printer to be completely portable, then you will need to buy the battery pack, which is sold separately.
---
Designed as a mobile photo printer that runs on a rechargeable, internal Li-ion battery pack, the QX10 creates 2.7-inch square prints on slightly larger paper, with a border along the bottom that's ideal for adding captions. The paper has a peelable backing, so you can stick your prints into a scrapbook or onto any hard surface. Using a dye-sub printing process, each print passes through the printer four times, adding different color dyes and a final protective top coat. This makes the prints robust, smudge-resistant and gives them a longevity of about 100 years.
Keeping the size manageable, the dye-sub cartridge and the paper tray both slot into the printer to avoid protrusions. At a little more than an inch thick, the QX10 is just about small enough to qualify as a pocket printer. Prints are of good quality and take about 43 seconds to produce, at a cost of around 75c/80p each, based on packs of 20 sheets of photo paper and the accompanying dye cartridge. The battery also has enough juice for creating 20 prints from a full charge.
The companion Canon SELPHY Photo Layout app for Apple and Android smartphones and tablets makes printing quick and easy. Ultimately, the QX10 is quite pricey to buy but the build quality and performance is good. It's fine if square prints are your thing, but you might prefer the more typical photographic aspect ratio of the Polaroid Hi·Print 2x3 Pocket Photo Printer, which creates larger 2x3-inch photos and is cheaper to buy.
---
The Fufjifilm Instax Link Wide, as the name suggests, is ideal for wide format photo prints on the go. The app works well to allow you to edit pictures on your device before sending them to print in high quality 800 x 1260 dpi resolution on printer paper. This comes in 10 packs where the ink is part of the package – not cheap but very easy to use.
While this does print rich color photos it also has a smart QR code feature, allowing you to embed links to websites, sounds, locations and even hidden messages into the photos that can be accessed using a smartphone scanning that image.
The app features lots of templates, allowing you to create your print finish with ease before sending it from your phone to the printer via Bluetooth. You can even create collages for multiple images on a single sheet print.
---
The Brother PocketJet 8 is a thermal printer meaning it uses special paper and heat to print and so doesn't require separate ink. As such this can be super compact and lightweight making this highly portable. It is also very decent quality with a high 300dpi resolution and can print quickly at 13 pages per minute. On the downside you can only print in monochrome and many of the extras cost more, like a battery pack, paper tray, and that specific thermal paper.
This is one in a long line of this printer type and as such is near perfected with lots of connectivity including USB, WiFi, Bluetooth and WiFi Direct. But it's also good for peace of mind thanks to a 2-year warranty and a lifetime customer support backing.
---
The Polaroid Mint is a dedicated portable photo printer. That means it's one of the smallest portable printers out there, tiny enough to slip into your pocket like a smartphone. It'll connect wirelessly as well as to microUSB cards to print off your pictures. It does use a specific technology that means you buy packs combining paper and ink in one, which are easy to replace but not cheap. That said, with up to 50 sheets in a pack it's a super portable way to work on the go.
Print quality is excellent on the 2 x 3 inch sheets which have a glossy photo finish. You can even adjust images with print effects like vintage, black and white or punchy color. A great photo printer that does nothing else, so keep that in mind if you want something more feature rich in your portable printer.
What to look for in a portable printer
Knowing what to look for in a new portable printer is important, and the number of options available can be overwhelming. Below, we have summed up a number of features to consider when browsing the web to make sure you are making the right decision.
Print options and quality
Print quality varies significantly between different printers. Depending on whether you want to print high-resolution images or black-and-white documents only, you'll want to look at a few different machines to find one that suits you. Some portable printers exclusively print in black and white, while printers such as the Canon Selphy are specialized for photo printing.
Print speed
Slow printing speed can be a hindrance when completing admin tasks if you choose the wrong printer. If you are looking to do a lot of urgent, high-speed printing then you will want to choose a model that can accommodate your needs; more modern (and thus more expensive) printers tend to offer the highest print speeds.
Print size
Many of printers, especially portable ones, will only print in A4 and below. A lot of photo printers are restricted to even smaller sizes than this. If you want a printer that can produce A3 pages, then you may want to look out for specialized printers that can do this.
Budget and running costs
Ink can get very expensive. Your personal budget will have to be considered when upgrading your current printer. Due to their smaller size, many people may think that portable/compact printers are cheaper to run, but a lot of them can go through ink at an alarming rate which may make them more expensive to run than regular printers. However, a number of the options on our list do suit a smaller budget, and some even come with free ink saving you that additional cost.
Connectivity
You may want to be able to print from a number of devices simultaneously, so finding a printer that can connect to smartphones and tablets, as well as computers, is important. Some printers are not compatible with mobile devices, while others can print directly from your phone - it is important that you look into this before making a decision if you want smartphone printing.
Portability
One of the most important things to look into when buying a portable printer is of course portability. All printers in this guide are suitable to use on the move and can be set up pretty much anywhere. Some are considerably more compact and lighter than others, such as the Polaroid Mint which is only 6 ounces, or the Brother PocketJet which is only 15 ounces. Ideally, you want a device that can easily fit into a bag or be tucked neatly into a drawer when not in use.