If you're looking for a cheap smart TV deal, we've found one of the lowest-priced HDTVs ever. This Insignia 24" smart TV, with Fire TV included, is down to the amazing price of $79.99 at Best Buy right now, as part of the site's 48-hour sale. You're saving a massive $70 on the list price of $149.99, so this is a great time to pick this smart TV up.
It's HD-ready, so will work perfectly fine as your main TV. However, it's probably better suited to being a second TV for a bedroom, kitchen, or out-building, as it's relatively small and - because it comes with Fire TV built-in - you don't need to plug it into any aerial or cable point. This cheap TV is self-contained, and ready to play anywhere, providing you have some WiFi signal wherever it's plugged in. Most homes have complete wireless coverage, so this shouldn't be a huge issue.
No, this isn't one of the best TVs you'll ever use, but it's probably one of the cheapest, and it's well rated by users. Of the 291 people who have purchased and reviewed the TV on Best Buy, it has an average score of 4.5 stars, which is a great recommendation.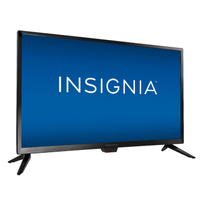 Insignia 24" Smart TV with Fire TV: $149.99 $79.99 at Best Buy
You save $70 on this Insignia smart TV, with Fire TV built-in. That's almost 50% off the regular price. With Fire TV you get access to a range of streaming services, so there's plenty to watch. It's capable of running at 720p, and has 3x HDMI slots for adding things like games consoles and DVD players.
If you're still considering whether or not to grab this cheap smart TV now, let's look at some of the stats the TV has. It's a 24-inch LCD screen, which is smaller than most modern 4K TVs, but about the same size as a computer monitor. It has three HDMI connections, which is pretty generous for a TV of this size, so you can plug in additional devices. There is an aerial socket, a headphone jack, and a USB port, so most connections are covered.
One of the main features is that this TV has Fire TV built-in, which means you have access to streaming services like Amazon Prime TV, Hulu, and Netflix. You can also control the TV via an Alexa-enabled device, like an Echo Dot, which is very cool. There's a stand included, and it can also be mounted on a wall with a standard VESA mount for 24-inch TVs.
The image here lets you know exactly how big the TV is, so you can work out whether or not it'll fit into your chosen room. It's 21.7" wide, and 14.4" tall. The 24" screen size is the measurement from the top left of the screen to the bottom right corner.
Of course, you could always get this TV in different sizes too, and there is a 39" version available at Best Buy. If this isn't for you, and you're looking to shop for the holiday early, we've rounded up the best Amazon Holiday Dash deals right now. You'll also find the best Black Friday USA deals starting soon too.