Right now you can get a free Apple iPhone SE at Verizon. That's a $400 smartphone, for no upfront fee. You'll also get 50% off your activation too, when you take out a new cell plan at Verizon. Not only is the iPhone SE a great phone, we rate Verizon as one of the best cell phone providers in America. In fact, there are a bunch of offers at Verizon right now that can save you money across the iPhone range.
So, why choose an iPhone SE instead of one of the newer iPhone 12 range? Well, price is a huge factor: the newest iPhones run to $1000+ for most models, and you simply may not be able to afford to add something so expensive to your plan. Even the best Black Friday cell plans won't get you a newer iPhone 12 for a cheap price. Secondly, the SE is less than a year old, and has comparable features and power to the newer models. You're getting a 4.7-inch screen, an A13 chip - the same as all the iPhone 11 models - and a 12MP rear camera.
Basically, the iPhone SE is a great phone, and it'll more than satisfy most people for the duration of their cell plan (which is usually 24 months). The 50% off activation is a nice bonus, but nothing too major - normal activation is $40, so you're getting it for $20 with this deal.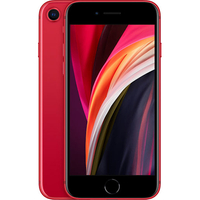 Free iPhone SE with a new Verizon line: Free iPhone + 50% off activation
If you want to upgrade your phone, change your line, and save a bunch of cash... this offer is unbeatable. The iPhone SE is currently listed as a $400 value, and you also get half-off Verizon's activation.
As we mentioned above, there are a bunch more iPhone deals going on for Black Friday. There's an offer on trade-ins at Verizon where you can get up to $650 off a new iPhone 12 Pro or Pro Max when you sell back your old phone. It's a good deal, provided you have a decent phone to trade against the new handset. The iPhone 12 Pro is one of the best smartphones out there in 2020, but you do pay handsomely for it.
Another deal that has caught our eye is where you get a free $50 gift card when you spend $200 on accessories at Verizon. This includes things like smartwatches, so you can easily make up the money. If you were planning to shop there anyway... you may as well get the $50 credit.
More great iPhone deals
Need more money-saving deals and discounts? We've rounded up the best Black Friday USA deals for 2020 - which includes early price-cuts from around the web. You can also check out our guide to the best Black Friday computer deals, to save more money on tech.