If gift baskets were judged based on looks alone, the Fruit and Gourmet Delight basket from GiftTree would win. The food comes in a wooden trunk complete with leather clasps and a map of the world covering the outside. Though the food in this basket wasn't ranked as high as others, the presentation caught the eyes of all our testers.
This basket came with a wide variety of food items, including fruit, candies and cookies. One food item that disappointed many testers was the dried mandarin oranges. Though they looked appetizing, the bitter flavor resulted in many low rankings. Overall the food in this basket received an average score of 2.75/4 and resulted in a C+ rating. If you're looking for better food value, we recommend that you choose the Founders' Favorite Gift Box from Harry & David. Not only were the Asian pears delicious, but the goodies were higher quality. If you value the reusable trunk, however, GiftTree may be a good choice for you.
The trunk arrived in a box with no bent corners or rips. However, inside the trunk was only secured with butcher paper, a flimsy packing material. The best gift baskets shipped with gel or foam packing and included cold packs to keep fruit fresh, like igourmet.
Not all of GiftTree's gift baskets ship in trunks like the one we received, but you can search for a basket that fits your needs. The company offers over 100 different gift baskets to choose from.
You can pay for a gift basket from this company with a credit card, PayPal or a GiftTree gift card. Once you order your basket, you'll have to add another $14 or more for shipping, especially if you choose overnight or weekend delivery. It's nice to have the option to ship on the weekend, however, and many companies don't offer this.
GiftTree can't deliver to APO/FPO addresses so you can't send a gift from its website to a member of the military living abroad. However, it does ship internationally to Canada, the British Virgin Islands, Puerto Rico and the Virgin Islands.
One great benefit of ordering a basket from GiftTree is the add-ons that you can select to include with your purchase. You can add a teddy bear, a box of chocolates, a balloon, wine and many other items, all for a small extra charge. This can help round out and personalize a gift basket more than a simple card.
This company has phone, email and chat support for its website. You can also browse FAQs to get the help you need.
If you're looking for a gift basket that has some wow factor, the collectible trunk that the Fruit and Gourmet Delight comes in will impress your friends and family. However, the food items in this basket weren't as high quality as other baskets we tested. If you're looking for better fruit and treats, we recommend that you choose the Founders' Favorite Gift Box from Harry & David because it rated much higher in our taste test.
Need a better alternative?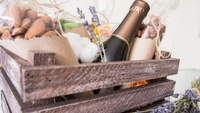 Top Ten Reviews has reviewed the Best Gift Baskets of 2019 so that we're able to offer you the authoritative buying advice you expect.