If you want to order a basket big enough for a large group, the Gourmet Choice Gift Basket from Wine Country Gift Baskets is our pick for best value. This basket came with an impressive array of crackers, nuts, dips, cookies and cheese that filled a whole table in our breakroom. Though some of the food quality was lower than our top picks, a few items from this basket, such as the rosemary and olive crackers, impressed our testers.
After collecting the results from our panel of 20 taste testers, Wine Country Gift Baskets had the third best score for its food items. The average score for its food was 2.9/4 and we gave it an overall B score. This is far better than other companies we ordered from like Mary Gift Baskets, which got an F, but not quite as good as the Harry & David basket, which got an A+.
One potential reason that Wine Country's basket fared so well in our taste test may be because it didn't include any fruit. This wasn't a necessary criteria in picking our baskets and some companies don't offer fruit baskets. All of our testers agreed that fruit was the hardest thing to get right in the baskets. In other baskets, apples were either mushy or tasteless and the ripeness for other fruits, like oranges and pears, was an issue.
This basket included sausage, crackers, tapenade, cookies, and a cheese knife and decorative ceramic plate to display some of the food. Extras like the knife and plate didn't add to our score, but they're nice additions.
This company offers kosher gift baskets but doesn't have an option to search for vegan baskets. You can search through over 300 baskets on its website, though, and pick a holiday or themed basket to meet your needs.
Our gift basket arrived in fair condition with a slight tear in the cardboard and a bent corner. The food inside wasn't damaged, though, thanks to the bubble wrap securing the basket.
You can purchase a gift basket from this company using a credit card, PayPal or AmEx Express Checkout.
If you order from Wine Country Gift Baskets you can choose to have your basket shipped overnight. There is also an option to pay extra for Saturday shipping, something that most other companies don't offer.
Unfortunately, this company won't ship to APO/FPO addresses or internationally – unless you count Canada. The best baskets let you ship to members of the military, no matter where they are stationed.
The extras for this company also are paltry – you can add a greeting card or extra snacks to your order. We prefer baskets that let you add unique extras like stuffed animals, chocolates or balloons.
If you have questions about your order or a basket, you can email, chat or call Wine Country. There is also a FAQs section with help for things like shipping, same day delivery and order tracking.
Wine Country Gift Baskets' Gourmet Choice Gift Basket has enough food for a large group. It is the best value basket we tested. The food had a consistently high rating from our taste testing panel, though this basket didn't include any fruit. If you want the most basket for your dollar, this is a great choice.
Need a better alternative?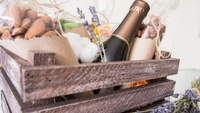 Top Ten Reviews has reviewed the Best Gift Baskets of 2019 so that we're able to offer you the authoritative buying advice you expect.