If you need a new refrigerator, and want to save money by getting a last minute deal, we've found an excellent discount at ABT. Right now you can save $250 on this mighty LG LFXC22526S which is now $2,299. It has a huge combined storage capacity of 22.1 cu ft, which is broken down into two main compartments. The refrigerator space is 14.8 cu ft, while the freezer on the lower part accounts for 7.3 cu ft.
At $2,299 you're getting good value for one of the best French door refrigerators, but we know that it's still very expensive. So, what else makes this fridge special, other than its capacity? The LG smart fridges are all WiFi enabled, and have a range of features to make your grocery shopping, storage, and usage much easier. Connect via the ThinkQ app on your phone, and you can perform a smart diagnosis on your appliance, and check inventory in the fridge itself. It runs quietly, and the storage drawers are well designed to help you make the most of the space inside the refrigerator.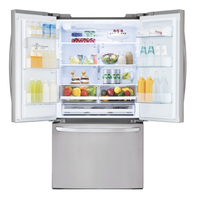 LG French Door Refrigerator (Stainless steel): $2,549 now $2,299 at ABT
This LG refrigerator, model number LFXC22526S, has a huge 22.1 cu ft capacity, and combines a 7.3 cu ft freezer compartment with a large 14.8 cu ft refrigerator. It's WiFi connected, and has smart features, and is highly rated by users who have already bought one.
The LG LFXC22526S has an average rating of 4.5 stars on ABT, and customers all praise the storage capacity and smart design of the fridge itself. It's counter-depth, so will slot into most kitchens, and it looks very stylish too - something that a large number of existing users all appreciate.
It comes with an ice and water dispenser, as you'd expect, and it's Energy Star certified, so you know it isn't going to eat-up as much power as some other French Door models. Overall, it's an expensive buy, but the savings are good and the refrigerator is one of the best you can get.
If this isn't the fridge for you, we also have a guide to the best side-by-side refrigerators, and take a look at the best freezers, for more frozen storage space.