A year ago, none of us were overly bothered whether we had a forehead thermometer at home or not, but the coronavirus pandemic has changed that. Fever is one of COVID's major symptoms, and you can detect fever more accurately if you have one of the best digital thermometers for the job. Our top pick is the Withings Thermo, a smart thermometer that tracks body temperature for up to eight people. And today the Withings Thermo is $30 off at Best Buy, making it $69 instead of $99.
This superb forehead thermometer, more accurately known as a temporal thermometer, takes temperature readings via the temporal artery (a major blood vessel) located at the side of your temple.
We've had our Withings Thermo for a while and it's reliable and simple to use, and capable of tracking fever, a common coronavirus symptom, in up to users, both adults and kids. Once a reading is taken, the Withings Thermo app will give you health advice based on the person's age, temperature, fever history and any other symptoms.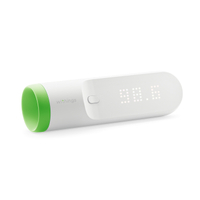 Withings Thermo Forehead Thermometer | Was $99 | Now $69 at Best Buy
The Withings thermometer is ideal for quickly detecting a fever, as a color-coded LED indicator tells you whether you or the person you're caring for has one. The Withings Thermo app works with iOS and Android devices, and contains a notes section where you can also keep a digital record of symptoms or medication used.
The non-invasive Withings Thermo forehead thermometer uses something called HotSpot technology. This is made up of 16 infrared sensors that take over 4,000 temperature measurements per single reading, which is mind blowing.
As mentioned, the thermometer uses a color-coded system to show you at a glance if a fever is present. The actual temperature reading will also be displayed on the thermometer itself (and stored in the app).
This Withings forehead thermometer is quiet in use too, so it's a good one to use if the person you're caring for is asleep and you don't want to disturb them. Because it can track body temperature readings for up to eight people, the Withings Thermo is also an ideal choice for families or house shares. Considering how cheap it is at Best Buy, it could be one of the best COVID health purchases you've made yet.
More cheap thermometer deals
Looking for more money-saving deals and discounts? You're in luck as we're rounding up the best Black Friday USA deals for 2020 - which includes early price-cuts from around the web. We also have a guide to the best Amazon Holiday Dash deals, for anyone looking to get their festive shopping sorted early this year.