Refrigerators and fridge-freezers can be expensive but are definitely worthwhile investments. And if you're savvy and keep an eye out for sales, you can potentially save hundreds of dollars on something you and your family will use daily. Or, in the case of this Samsung Bespoke French Door Refrigerator, thousands of dollars.
As part of its early Labor Day sales, Best Buy has knocked more than $1,000 off this Samsung Bespoke 30 cu. ft. 3-Door French Door Refrigerator, meaning you can grab it for less than $2,000. We rate appliances from the brand highly, and you can read more about how they compare in our LG vs Samsung refrigerators guide.
If you're looking to buy a new fridge-freezer, we'd recommend acting fast to save money, as this limited-time deal won't last long.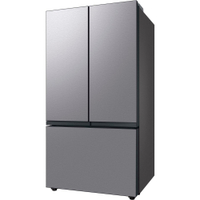 Samsung Bespoke 30 cu. ft. 3-Door French Door Refrigerator | was $3,099.99, now $1,999.99 (save $1,100) at Best Buy
Fridges are one of the most expensive things we can buy for the home, and those with fancy, advanced features tend to be even pricier. We're pleased, then, that the Samsung Bespoke 30 cu. ft. 3-Door French Door Refrigerator is currently a whopping $1,100 off at Beast Buy, cutting the price down to less than $2,000!
When is Labor Day?
Labor Day weekend in 2023 starts on Friday, September 1st, and ends on Monday, September 4th.
Brands and retailers are launching their Labor Day sales a couple of weeks before September, however, and you can catch the best offers on our Labor Day sales hub.
Refrigerator deals
It's always great to find refrigerators and fridge freezers on sale, as there's no arguing that they are one of the most expensive items for the home. Large appliances like these can often be found at a discount during sales events like Black Friday, and you can find the best Black Friday refrigerator deals on our dedicated page.
Before that, though, APD is just around the corner, and you can keep an eye on the latest offers on our Amazon Prime Day deals hub. To look further ahead, bookmark our main best Black Friday deals page for up-to-the-minute information.
When searching for a new refrigerator, the sheer amount of features and styles can be overwhelming. It's crucial to take into account the fridge's capacity, but it's not wise to automatically choose the largest one available. Instead, you should base your decision on your household size and grocery shopping habits to determine the necessary space.
You should consider the fridge style that will work best for your home. French door fridges have more space and are best for larger kitchens, while side-by-side fridges offer full freezer and fridge space. Other features like ice and water dispensers and humidity-controlled drawers can help keep your produce fresh.