MSD Organizer is planner software for helping you organize all aspects of your life. Even though it has numerous organizing tools and features, this software is easy to use. While you can sync the software with Google calendars, you can only access some of the data you input into the software.
What makes this organizer software one of the best is its numerous organizing tools. You can easily access the tools from the top panel of the software. The calendar feature allows you to set up recurring events for meetings, birthdays or anniversaries. If you need to change an appointment, you can simply drag and drop the event on the new date and time. The calendar also allows you to create custom reminders with intervals you can set.
This personal information manager also features a to-do list you can use to prioritize your tasks. Once you create tasks and set parameters for them, the task manager provides you with valuable information about each task, including its completion status, the time you have left to complete it and what category it falls under. The software also has a dedicated journal and notes section.
The organizer's address book offers more functionality than most of the organizers on our lineup. Not only does it provide your contact's name, address, phone number, email address, picture and category, but you can also attach text documents, histories, spreadsheets, notes and embedded documents.
In addition to the standard organizing tools, MSD Organizer also has budget templates, health records, a music and property organizer and others. With these tools, you can organize your personal and professional life and access the information in the same place. Since so many important documents are in one place, the program has the ability to back up your data, as does Efficcess, a comparable program. You can set up the software to remind you to back up your data regularly; however, it does not feature automatic backup.
In addition to protecting your data by regularly backing it up, the program is protected by a password. It also encrypts your data every time you exit the program. These security features prevent outsiders from accessing your information, which is particularly important if you are using the password manager to store passwords. If you need help creating strong passwords for other applications, the software has a generator capable of producing strong passwords you can also store on the software.
MSD Organizer does not have an iOS or Android app. Instead, you can sync your contacts, tasks and calendar items with Google and then access this information on your Google email with your smartphone. While this enables you to view some of your data, you cannot access many of the documents and features of this software. This limits the software's effectiveness on mobile devices, but since the program has several export options, you can move your data to other applications. You can export files into TXT, CSV, HTML and PDF formats.
The developer's website offers limited support options. The website does not list a technical support phone number. Instead, it lists an email address you can use. The technical support team responded quickly to our questions and offered helpful responses. The personal organizer software includes a user guide you can access for help using the various features. The user guide also has frequently asked questions for helping you get answers to commonly asked questions and problems.
MSD Organizer is full-featured organization software. With numerous organizing tools and advanced features, you can organize your personal and professional life with ease. While MSD Organizer has limited support options and offers little in the way of mobile compatibility, its ease of use and capabilities make it one of the best organizing programs available.
Need a better alternative?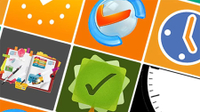 Best Organizer Software of 2019
Top Ten Reviews has reviewed the Best Organizer Software of 2019 so that we're able to offer you the authoritative buying advice you expect.