The Philips 3000 Series Air Fryer is getting a heck of a deal right now. While plenty of products are getting the discount treatment, very few are getting over 50% off like this air fryer.
What's more is that not only is it one of the best Amazon Prime Day deals right now with 56% off the sticker price, it's not a budget air fryer being used as a doorbuster. Typically at $179.95, this air fryer is solidly mid-range. So, it getting $100 off that price is reason enough to run, not walk (or, more realistically, open a new tab in your browser) to press that buy button.
Also, this deal is an "Invite-Only" deal, meaning you have to request an invitation on the Amazon store page now to get the invite during the Prime Big Deal Days next week (October 10th and 11th, specifically) as there are a limited number available – just as you would expect with a doorbuster deal like this.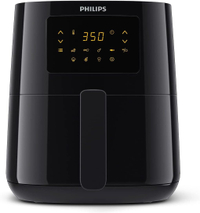 Philips 3000 Series Air Fryer was $179.95, now $79.95 at Amazon
Invite only. This air fryer is already a hit with Amazon users as its 4.5 out of 5 rating attests thanks to how easy it is to use and clean, not to mention the fact that it's packed with 13 cooking functions and a just-right size. And, now this almost $180 kitchen appliance is a full $100 off for Amazon Prime Day.
Price check: Crate & Barrel ($149.95)
Alternative pick: Instant Pot Vortex Pro Air Fryer
Philips 3000 Series Air Fryer: Key features
Philips has made our best air fryers guide with another model of theirs, but this one is not to be ignored. As our sister site TechRadar has stated in their four star review of this model, it's a dependable air fryer that produces great results and comes with quite a few settings. Since it's among one of the best Amazon Prime Day air fryer deals right now (as long as you get that invite), that shouldn't be of concern.
The air fryer's compact size means that it's ideal for smaller countertops, or at least more of a supplemental kitchen appliance. That said, its 13 different functions, which include bake, grill, and roast along with the main air fry function, makes this an incredibly versatile addition to any kitchen.
It features a touch screen control panel with seven built-in presets to help cook different foods the right way. There's even a downloadable Philips Kitchen app that can provide recipes, tips and support to get the most out of your air fryer. Plus, all the removable parts are dishwasher-safe - that makes things a whole lot easier.
If you care about user reviews, just know that it's gotten a very good 4.5 out of 5 rating on Amazon, due to how easy it is to use and clean, quiet operation, and the fact that it's compact.
Air Fryer Deals
While there are sure to be more doorbuster-type deals when the Best Black Friday deals start to descend upon us in all their pumpkin-spice glory, those days are a ways away, despite what may or may not already be on your local Starbucks menu.
That means that your best bet for any kind of air fryer deals is during this upcoming Amazon shopping holiday. While this Philips air fryer is among the best deals we've seen so far, there are plenty of other deals around. To make sure you're getting the best bang for your buck, check out our guide on how to choose an air fryer during Prime Day.
If you're looking for something a bit more niche, the Instant Pot Electric Round Dutch Oven is getting an $80 price drop. Or, if you're more of a fan of oven-style air fryers (such as this writer), consider the Instant Pot Vortex Pro Air Fryer.