You may know Purple as one of the world's top sleep brands, and now its joining in the fight against the coronavirus with its breathable and reusable face covering called The Purple Face Mask. We haven't yet spotted it among the best Purple mattress deals, so currently The Purple mattresses face mask comes in a pack of two, and customers are currently limited to 12 masks per order to ensure everyone is able to buy them.
Purple, which tops our best mattress online guide, has made the Purple Face Mask in three different sizes: Kids, Small/Medium, Large/Extra Large. Each mask is triple-layered and machine washable, and follows 'CDC guidelines for personal use and to provide comfortable low barrier protection that will help inhibit the transmission of COVID-19.'
Some of the materials used to make Purple's best pillows for sleep have been used in these masks, all to create a breathable face covering that feels comfortable during longer periods of wear. So if you've been wondering where to buy reusable fabric face masks, Purple still has stock.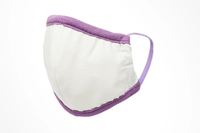 The Purple Face Mask | Buy now for $20 at Purple
Purple's fabric face mask comes in a twin pack, and is available in three different sizes, catering to both kids and adults. It's made using some of the materials found on Purple's super-snuggly and soft pillows, and follows CDC guidelines for personal face masks. The face mask is a triple-layer covering, with a built-in filter.
Both the inner and outer layers of the Purple mattresses face mask are made from Breeze Mesh fabric, which wicks away moisture to help the mask stay dry for longer. There's also a built-in 100% cotton filter, described by Purple as exceeding the current CDC recommendations for filter layers in personal face masks. As we explain in our guide to homemade face masks, the more layers you add to your mask, the more protective it is.
While some people have been using face mask extenders to prevent chaffing of the skin around their ears, Purple tackles this problem by fitting its face mask with Comfort Gel Bands, instead of elastic bands that dig into your flesh. These gel bands are made using temperature-neutral Hyper-Elastic Polymer, and can be safely stretched up to 400% of their resting size without losing shape.
Fun fact: Hyper-Elastic Polymer is also used in the sleep brand's Purple Grid technology, developed to help its mattresses flex under pressure from your body and to cradle you better during sleep. Speaking of which, for an instant boost of comfort and support, read our round-up of the best bed toppers.
CDC face mask guidelines
If you have time on your hands and would like to try making your own cloth face covering, check out our Homemade face masks 101 tutorial for everything you need to know about how to make them and wear them properly.
According to the official Centers for Disease Control and Prevention, the guidelines for personal face masks include the following:
Fit snugly but comfortably against the side of the face
Be secured with ties or ear loops
Include multiple layers of fabric
Allow for breathing without restriction
Be able to be laundered and machine dried without damage or change to shape
There's still ongoing a lot of scientific debate over whether homemade face masks can slow the spread of SARS-CoV-2, the virus that causes COVID-19. The Mayo Clinic states that face masks can assist in slowing the spread of the coronavirus if they are thoroughly combined with prevention protocols such as frequent hand-washing and proper social distancing.
Essentially, a face mask offers a level of protection if you're in close contact with someone who has COVID-19, or to help protect others if you are displaying Coronavirus symptoms.
As such, many countries are now advising citizens to wear face masks when out in public, especially when in close proximity to people outside of your household. For example, if you have to return to work in an office, or you're heading to the supermarket to stock up on groceries. If you would rather have supplies sent to you, consider using one of the best grocery delivery services instead.
Looking for more health and wellness content? Then take a look at our guide to the best digital thermometers for fever monitoring, as well as the best health insurance companies and the best Medicare Part D plans for the level of coverage you need.