Best Buy has sneakily slashed the price of the Rylo Action Camera just for today, and the savings are unbelievable: the 360-degree camera, normally $500, is now $200. Those are some crazy good savings, if you ask us! Outdoor adventures and amateur videographers alike don't want to miss out on a deal that isn't bound to get better until Black Friday, if buyers are lucky - and that's a big 'if.'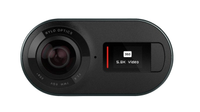 Rylo Action Camera: $199.99 (was $499.99) at Best Buy
Save $300 - This is a deal you don't want to miss out on. Customers rave about how easy this 360-degree camera is to use, but most importantly, how awesome the quality of the picture is. Just connect the device to the app and let your imagination run wild!
The Rylo Action Camera truly makes a great gift for just about anyone in your life, and even makes a great gift for yourself. If you're an outdoor adventurer, this deal comes at a great time when cooler weather is in the forecast and hikers, snowboarders, and skiers are gearing up for their trips. Or, you can get a jump-start on your holiday shopping and buy this for the adventurer in your life. This even makes a great gift for videographers who want to incorporate 360-degree shots in their productions.
The camera itself is a wonder of technology - hence the price. It captures picture in 5.8k 360-degree video, uses ultra-wide angle lenses, and is the result of breakthrough technology in stabilization and horizon leveling. While battery life may not seem the best (the rechargeable battery offers 60 minutes of continuous recording time), we think that this awesome 360-degree camera is well worth your money, especially if it's being sold at this low a price. But you have to hurry! The deal is only valid today at Best Buy.
However, if you're set on buying this 360-degree camera but aren't ready to drop that kind of cash just yet, you can buy the Rylo Action Camera on Amazon for as low as $275. Although that's $75 more than Best Buy's price, you're still getting a great deal - this is the lowest price this model has ever had on Amazon.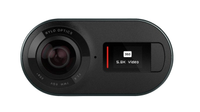 Rylo Action Camera: $274.99 on Amazon
Save up to $225 - Don't miss out on a pre-Black Friday deal to be beat. If you're not ready to buy the Rylo Action Camera from Best Buy today, Amazon's deal lasts beyond 12am tomorrow. Snag one while you can!