Plenty of sleep brands run regular sales, but we're particularly excited about the Saatva mattress Memorial Day sale, which can net you a generous $200 off your order of $1,000 or more, making it one of the best Saatva mattress discounts this month.
So, depending on the size of mattress you're shopping for, this could help you make a decent saving on one of these luxury sleepers. And trust us, you won't be disappointed – we love Saatva so much, we included it in our best mattress online guide.
Saatva's Memorial Day sale is only running for a limited time, and ends on Sunday 31st May. So now is the time to shop if you've been dreaming of sleeping soundly on one of the brand's super-comfortable mattresses, including the Saatva Classic, which features in our best cooling mattress guide. We'll also let you know if we see any of the brand's products pop up among best Amazon Prime Day mattress and bedding deals.
Of course, Saatva sells other sleep related goods besides jaw-droppingly gorgeous mattresses. We're talking mostly about the brand's fully adjustable bed, designed to provide zero gravity support for your entire body as you relax and sleep. Oh, and did we mention that it has a built-in massage function? Well yes, it will help you unwind with a full body wave massage. Just heavenly.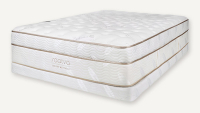 Get $200 off orders of $1,000 or more | Saatva
During the Saatva Memorial Day sale, you can save $200 off your entire shopping cart when you spend $1,000 or more. You don't have to apply a special mattress sale coupon, as the site applies it automatically. That leaves you to peruse Saatva's gorgeous, supremely comfortable mattresses and that adjustable bed.
The Saatva Classic Mattress is our current top pick from the brand's burgeoning mattress range. This luxury innerspring mattress comes in three different levels of firmness, so you can choose the ideal level for you without any compromises. The mattress is chiropractor approved too and made with lumbar support. There's also a euro top cushion delivery consistent lower back and joint pain relief. So if you suffer with either of those, this is the mattress to give careful consideration too.
The brilliant news is, you can trial the mattress for 120 nights to see if it really is the ideal choice for you. After all, much like tracking down the best pillow, finding a mattress that works for your sleep style is no easy feat.
Saatva offers plenty of other choice too in the form of the ultra-premium memory foam Loom & Leaf Mattress, the adjustable Solitaire Mattress, and the natural talay latex option the Zenhaven Mattress. Also proving popular since its arrival is the Saatva HD Mattress, a luxury hybrid option with a supportive coil base that delivers continuous comfort for people who weigh between 300 to 500 pounds.
Unsure which Saatva mattress is right for you? Take the brand's fun Mattress Quiz to help you narrow down your choice. And remember, if you do decide to give a Saatva mattress or bed a whirl, you'll have until 31 May to save $200 on orders worth $1,000 or more.