When Eight Sleep released its first ever smart mattress, the internet went wild with curiosity. Fast forward to present day and Eight Sleep is one of the most popular sleep brands in the world, with the action centering around its latest generation smart mattress, the Pod Pro, which is now $200 off in the Eight Sleep Memorial Day sale.
While we haven't yet reviewed it to see if it's good enough to make our best mattress guide, there's plenty of head-turning features here, especially the cooling function, which is why it has made our best cooling mattress guide.
When buying the Pod Pro you can take advantage of an additional saving: $150 off an Eight Sleep Essentials Bundle, comprising The Pod Sheet Set, The Pod Protector, and The Carbon Air Pillow. The original Eight Sleep Pod Pro is $200 off too, with prices starting from $2,095. With the Memorial Day sale discount, the Pod Pro starts from $2,595. The discount will be applied automatically to your cart at checkout, so you don't need to scour the site for a magical sale code.
For seasonal sale offers, see our round-up of the best Amazon Prime Day mattress and bedding deals.
The Eight Sleep Pod and the newer Pod Pro each offer dual zone cooling and heating, which is a fantastic climate control feature for you and your partner to explore. It makes a big difference if one of you sleeps 'hot' while the other runs a little cold.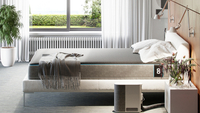 Eight Sleep Pod: was from $2,295 | Now from $2,095 (save $200)
This 11-inch deep smart mattress is made of foam and comes in four different sizes. It features dual-zone cooling and heating, and you can set your temperature preferences and schedule on/off times via the Eight Sleep app. The smart mattress also tracks your sleep, monitoring your sleep time, sleep stages, your heart rate while asleep, and how much you toss and turn. Eight Sleep uses these metrics to figure out how to help you snooze better.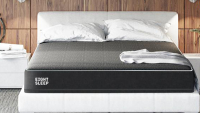 Eight Sleep Pod Pro: was from $2,795 | Now from $2,595 (save $200)
The luxurious Pod Pro is a five-layer, 12-inch deep mattress available in four sizes. It offers more advanced sleep and health monitoring features compared to the Pod, including ambient sensors to measure room temperature and humidity. There's a Daily Health Check and HRV Monitoring too, which analyzes your respiratory rate, resting heart rate and heart rate variability, which are indicators of your overall wellness.
A variety of features on both smart mattresses can be controlled via the Eight Sleep app (iOS/Android), with the greater suite of features found on the Pod Pro. On top of the Room Climate and Weather Response features, we're excited by the GentleRise Wake Up technology. With this you'll experience a vibration at chest level, so you'll be woken up by that instead of a screaming alarm clock. The mattress can also be programmed to gradually cool down or warm up minutes before your set wake-up time. The heating function would be very welcome during the colder months.
The brand also makes a series of bed pillows, including the $150 Carbon Air Pillow, designed to dissipate heat as you sleep. For more inspiration, also take a look at our guide to the best pillows for sleeping.
Remember, when you buy either the Pod or the Pod Pro, you can also save another $150 on a Sleep Essentials bundle to kit out your new smart mattress. The Eight Sleep Memorial Day sale is live now, so best move fast if you want to take advantage of these savings.
For further mattress savings, check out our round-up of the best Casper mattress deals, the best Saatva mattress discounts, and the best Purple mattress deals.