If you're looking for a mattress deal, this really is the week for it. To celebrate Sleep Awareness Week 2021, the folks at Airweave are offering an extra $100 off all their mattresses. This discount applies ON TOP of any saving you may already be making, so there's a great opportunity here to save some cash on a quality bed. All you need to do is apply the code: QUALITYSLEEP when you check out, and you get the $100 instantly discounted.
This promotion runs across the site, through March 22, and we tested the code with a variety of products via Airweave. There is also a separate sale event happening this week on the Airweave Original Mattress Advanced, which is a great model. You can get $100 off this by adding the code LASTCHANCE100. However, we tried it, and you can't stack these codes and get $200 discounted. Airweave sees what you're doing! The advanced sale does offer some good discounts, and you can potentially save $680 on an Advanced mattress in the Cal King size.
So, why Airweave? We've yet to test an Airweave, so it doesn't appear on our best mattress online guide, but the Japanese made bedding is created without springs or memory foam. The technology it uses, called Airfiber, is what makes Airweave unique. Apparently it can help you move more easily than memory foam, and keeps you cooler. Airweave cites a study by the Public Library of Science to back up its claims. Again, we can't say if it's more effective or not, but if you do decide to order, you get a 100-day trial period to see for yourself.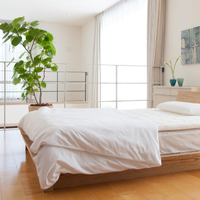 Save an extra $100 on all Airweave mattresses
Simply apply the code QUALITYSLEEP when you check out, and you'll get $100 subtracted from your total, even if the mattress you choose is already on sale. This deal runs through March 22.
What else does Airweave offer its customers? You get that 100-day trial period, where you can return the mattress if you're unsatisfied with it. Return shipping is free, but be aware that you need to have tried the mattress for a minimum of 30 days in order to get your free return, otherwise there's a $150 fee. Oof. You can exchange your mattress instead of returning it and, as long as it's within 30 days, that is free too.
Shipping to your home is free, across all mattresses, and you can finance your payments if you don't have the money to pay it all upfront. That's all handled through Klarna. Pay over the next 6-12 months and it's 0% APR, so you only pay for the mattress (and don't incur interest). However, if you want to spread it over a few years - up to 3 years, in fact - then there will be a variable APR on your purchase.
We think this deal is ok. It's a saving on a good mattress. There is a great Amerisleep deal happening this week, and we find that Purple mattress deals are often some of the best all year round.