If you head to the GhostBed Black Friday deals event, you'll discover a 30% saving on the popular GhostBed mattress. Plus, you'll get two free bed pillows (worth $170). Sounds good, right? But here's a question: are cheap mattresses worth buying? And just how cheap is cheap anyway? Well, thanks to this 30% GhostBed saving, you can own it for as low as $452 (was from $645).
We've seen even lower price tags from other brands this month, which has us thinking, are cheap mattresses worth it? And does a small price tag equal a small amount of comfort and support? In the case of the latter, not necessarily. Like other mattress online brands, the GhostBed is competitively priced simply because it can be. Also, in a hugely competitive market, it simply has to be.
One look at the GhostBed mattress spec list shows that this an above average memory foam mattress, so what you're actually looking at here is a bargain among all the endless Black Friday mattress deals.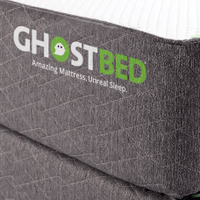 GhostBed Mattress | Was from $645 | Now from $452
If you want a medium-firm mattress, the GhostBed original will please you with it's 6.5 out of 10 firmness rating. It's soft enough to relieve pressure on your body, yet firm enough to support back and side sleepers. It's available on a trial period, and with a 30% off saving, it's cheaper than it's been for quite some time.
The four-layer GhostBed mattress uses gel memory foam and aerated latex to keep you cool, even on the hottest nights, much like the best cooling mattresses do. It's a little bit soft, a little bit springy, and it also claims to provide the 'optimal balance for comfort, relieving stiffness and pain for a great night's sleep.'
We'd normally give any mattress this affordable a slow side-eye upon hearing such claims, but GhostBed's existing customers have a lot to say on the subject, awarding it an average score of 4.2 out of 5. That isn't to be sniffed at, especially with users saying things like, 'I've had the mattress five years and it's still just as comfortable', and, 'I no longer wake up with back pain'.
So here's the score with cheap mattresses: if they're cheap in terms of quality, they are definitely not worth buying - your neck, back and overall sleep will hate you for it. Look at its list of materials and features. If a mattress isn't built to promote better spinal alignment, or is unable to hug your body to relieve pressure across your hips and back, you'll wake up feeling increasingly stiff and achy as the weeks roll by.
Finally, a good warranty is a hallmark of a quality mattress, regardless of how small its price tag is. The GhostBed mattress has a whopping 20 year warranty - something you only usually find on premium latex mattresses - yet costs from just $452. Cheap in terms of price, yes, but certainly not cheap in terms of quality.
More great mattress deals to shop this Black Friday
Want even more great mattress deals? Then check out our guides to the best Saatva mattress discounts, the best Purple Mattress deals, and the best Casper mattress deals. There's plenty more health and home discounts around too, so take a look at the best Black Friday USA deals for the latest top offers. If you're having trouble waking in the mornings, also read our guide to the best sunrise alarm clocks.