For those who love the taste of crispy fries and breaded or battered chicken, a good air fryer is an absolute must-have for the kitchen. And you don't have to spend your life savings, either, as this compact Ninja AF080 Mini Air Fryer is an amazing 50% cheaper at Amazon right now.
Giving you all the flavor and texture you'd expect from something cooked in a deep fryer, you shave off many health concerns with less (or no) oil required. The best air fryers work by circulating hot air evenly around the chamber, meaning whatever is inside is cooked perfectly in far less time than it would take in a conventional oven. The lack of oil also means less mess!
Ninja is a household name, so we probably don't need to tout their credentials, but if you want our verdict on a different product in the same family, check out our recent Ninja IG601 Foodi XL 7-in-1 Indoor Grill Combo review. The AF080, however, is designed with space-saving in mind.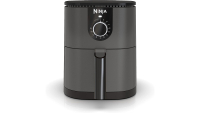 Ninja AF080 Mini Air Fryer | was $79.99, now $39.99 (save 50%)
This mini Ninja air fryer is at its lowest price ever, saving you 50% on the full price of $79.99. For less than $40, you get a 2-Quarts size fryer perfect for small portions of fries, snacks, wings, or veggies. The basket is nonstick, so easier to clean, and the simple controls are limited to a timer between 1-60 minutes.
Key features
The Ninja Mini Air Fryer is a great appliance for smaller families, single people, or couples, offering a faster and easier way to cook certain favorites. The 2-Quart air fryer has a small footprint so won't take up a lot of counter space, and you can use it to cook up to 1lb of fries, two hot pockets, or around ten taquitos - all using little to no oil. You'll get that crispy finish from circulated hot air, instead.
The 2-Quart capacity is ideal for snacks, and you won't be scrubbing at the basket and crisper tray afterward due to the nonstick coating. You can quickly set the timer by turning the dial to your required time, and it will let off a sound when the food is ready - simple and easy! The temperature stays consistent at 400°F, so you'll need to adjust timings slightly if the instructions are for conventional ovens.
Air fryers in general promise to use around 75% less fat than traditional frying (e.g. the best deep fryers), so you'll be cutting down on those unhealthy aspects but not sacrificing too much of the flavor.
Air fryer deals
Air fryers are always one of the big highlights of big sales events throughout the year, and you can head over to our dedicated Black Friday air fryer deals page for more deals closer to the date.
To keep track of when offers will start pouring in, make sure to bookmark our main Black Friday deals page for up-to-the-minute information.