The Ninja Air Fryer could be yours for just $69 today, as it's now $30 off at Walmart. One of the lowest prices right now in our round up of Ninja Foodi Cyber Monday deals, this 4-quart model is one of the best air fryers around.

If you always find yourself cooking with very little time to spare, make life easier for yourself with this Ninja Air Fryer. This handy appliance will become your best friend as it has four functions in one. In this machine you can air fry, reheat, roast, and bake - and all without very much effort from you at all, which we think is a result!
The first real draw with the Ninja Air Fryer is that it uses up to 75% less oil than one of the best deep fryers or a traditional turkey fryer, but what you won't be compromising on is that delicious crispy coating and of course, a scrumptious taste.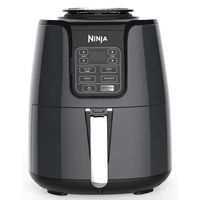 Ninja Air Fryer (4-Quart): $99 now $69 at Walmart
There's $30 off this multi-functional air fryer from Ninja today. Perfect for creating lighter dishes, you won't need oil for this air fryer, and you can use it to roast and dehydrate food too. Make life easier and grab this bargain now.
The Ninja Air Fryer gets to work way before a conventional oven has time to warm up and this clever little appliance uses convection technology too. What that means is that heat is circulated through the frying basket in this air fryer so that food is cooked evenly and has a delicious crispy coating.
Make as little or as much effort as you like with this air fryer as it can be used to cook frozen foods, or you can make your own healthy fries with much less oil. Chicken wings, meats, and potatoes will come out beautifully - and if you're short on oven space this Christmas, this is a great gadget to cook up your roast potatoes.
The ceramic coated basket is easy to clean as is the crisper plate. But aside from that, this Ninja Air Fryer can be put to work with just the press of a button. It's a great healthy alternative and it can also be used to dehydrate fruits and vegetables to make delicious snacks.
More great air fryer deals
Save on other items for your home with our guide to the Best Cyber Monday USA deals for 2020, or for something bigger, check out the Cyber Monday refrigerator deals.